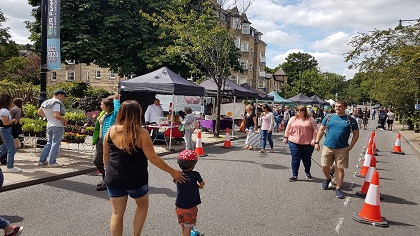 For the first time since December due to Covid restrictions, Real Food Ilkley will be held on The Grove this Sunday, 2 May, between 10am and 3pm.
A spokesperson said:: "We have over 50 stalls this Sunday offering an amazing range of food, drink, homeware and crafts as well as our local business and charity stalls."
Sunday's line up of stall holders is:
Gluten Freeks; Wharfedale Fine Cheese; Lasagnas on the Road; Third Wave Coffee; Por Favour Fudge; Shire Honey; Hel's Bowls; Tricky Dickie's Sticky Toffee Puddings; Marsh Top Meats; Gerhard's Pretzels; Really Indian; CondiMental; Giuliano Olive Oils; Lily & Rabbit; Trufoods; Kandy Kitchen Creations; Ilkley Kitchen; Love Brownies; Commute Coffee; Happy Hog Catering; Ilkley Brewery; Ilkley BID; Drystone Radio; Garth Cottage Herbs; Secret Truffles; Caterpillar Catering; Leeds Bread Co-op; Organic Pantry; Anytime Fitness; The Greenhouse Horsforth; King Olive; Little Box Kitchen; Holy Smokery; Gourmet Scotch Egg Co; Elizabeth J Garden Design; AC Telfer Art; Little Box; Hammond Charcuterie; Priory Vodka; Cossack Cuisine; Correli Wines; Cake Enterprises; Woodcutter Creations; Wharfedale Candle Co; Yorkshire Wildlife Trust; Andrew Bennett Wildlife Photography; Yorkshire Crafts; Cosy P's Pizza.
You can keep up to date with Real Food Ilkley news by visiting facebook.com/ilkleyfoodmarket