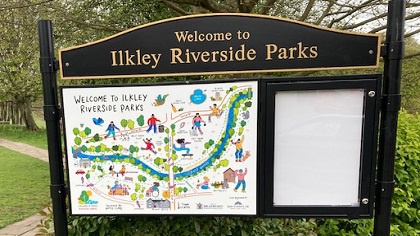 New signs at Ilkley Riverside Memorial Gardens were delayed due to the pandemic, but have now been installed.
"We are really pleased that most of the new signage has finally arrived in the parks", said Ed Duguid, Chair of the Friends Of Ilkley Riverside Parks (FOIRP).
"The contract for the signage was bound up with the construction of the new disabled access path in Riverside Gardens, along with the renewal of the entrance ramps and fencing at East and West Holme Fields.
"The contractors managed to complete the ramps and fencing last year which made access much safer to those areas, before a delay ensued over whether there might be Roman ruins below the proposed route of the new path in Riverside Gardens. A stop was ordered by Historic England before an archaeologist was appointed to supervise the works. After some site investigation the go-ahead was finally given. It took a year to achieve this. So, here we are, the path is finished and the new signs erected at each of the three park locations."
The path and fencing improvements were funded via Bradford Council, but FOIRP had to raise the funds for the new signage. In particular, Bar Events UK, who regularly uses Riverside Gardens for its Christmas Tepees, funded the design of a new map and some signs providing guidance for park visitors, which were designed by local graphic designer, Hattie Clark, who also designed the maps at Darwin Gardens.
Dan Lakin, Bar Events UK MD said: "We were very pleased to fund the design of the new signage for the parks. We enjoy our time at Riverside Gardens each Christmas and really appreciate all the work that the Friends of the Park are doing."
Ed added: "We would like to acknowledge the council's support in improving the paths in the parks and in collaborating with us to remove many of the outdated signs and replace them with more visitor friendly signage.
"The maps will provide a great overview of what is in our parks and the new 'Golden Rules' signs simplify the message to visitors to our parks, which can be summarised as 'show respect to your park and to others who visit them!'
"We are negotiating some additional signs with the council, so we can get the necessary coverage across all areas. Hopefully these will also be in place soon."
The FOIRP have many plans for 2021, if you would like to join the group or have any ideas please contact them via the website: friends-of-ilkley-riverside-parks.com