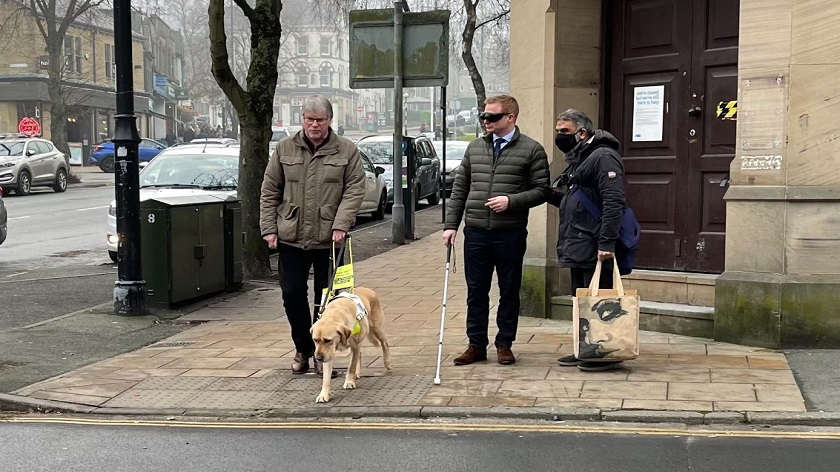 Keighley and Ilkley MP Robbie Moore joined a 'blindfold' walk around Ilkley at the weekend to urge better enforcement of advertising boards.
Campaigners from the Royal National Institute of Blind People (RNIB) led a blindfold walk on Saturday 15 January in Ilkley to highlight the ongoing issue of pavement obstacles such as advertising boards (A-boards) causing obstructions for pedestrians with sight loss.
Following Bradford Council's announcement in April 2018, introducing a ban on A-boards, the hazardous panels have made an unwelcomed return to the district's pavements, particularly impacting blind and partially sighted people when trying to get around safely.
RNIB's Regional Campaigns Officer for Yorkshire and the Humber, Maqsood Sheikh, was invited by guide dog owner, Stewart Ross, to hold a local blindfold walk in Ilkley. The pair were joined by Robbie Moore, Keighley and Ilkley MP and, RNIB champion.
During the walk, MP Robbie Moore, wore spectacles with filters that simulated sight loss caused by different eye conditions. The spectacles allowed Robbie to experience some of the challenges blind and partially sighted people face on their walking journeys.
Keighley and Ilkley MP Robbie Moore said: "It was a privilege to be able to join the RNIB for their blindfold walk in Ilkley. It's important to raise awareness about how movable objects such as street furniture, wheelie bins, A-boards, or other advertising stands on our streets can impact blind and partially sighted pedestrians. Spending the morning walking around with simulation specs, I experienced just how challenging it is to navigate our pavements when they're blocked by street clutter. I urge all businesses and residents to be mindful when placing items on the pavements as it's imperative our streets are accessible to all. I thank the RNIB for inviting me to take part, and for all they are doing to help raise awareness on this issue."
Last year, RNIB's See Streets Differently report revealed residents in Yorkshire and Humber found it increasingly difficult to avoid accidents on their walking journeys. Research showed factors such as new street designs, pavement parking and bins, were some of the many concerns.
Stewart Ross, a local guide dog owner, said: "As someone with sight loss, walking around the town can be challenging because of street clutter such as A-boards and café furniture. I hope that doing this walk with Robbie and Maqsood will demonstrate the importance of accessibility for all and urge the council for better enforcement of the ban. Street clutter is not just an issue that affects people with sight loss, but also those with prams and mobility aid users."
Stewart continues: "I recognise the need for businesses to promote their activities, but this has to be done with sensitivity and respect for the needs of others in the community. With greater emphasis now being placed on getting around on foot because of COVID-19 and the need to reduce carbon emissions, accessible pavements need to be a priority."
For more information on RNIB's campaign work for A-boards, please visit: www.rnib.org.uk/campaigning-campaign-resources-my-street/boards