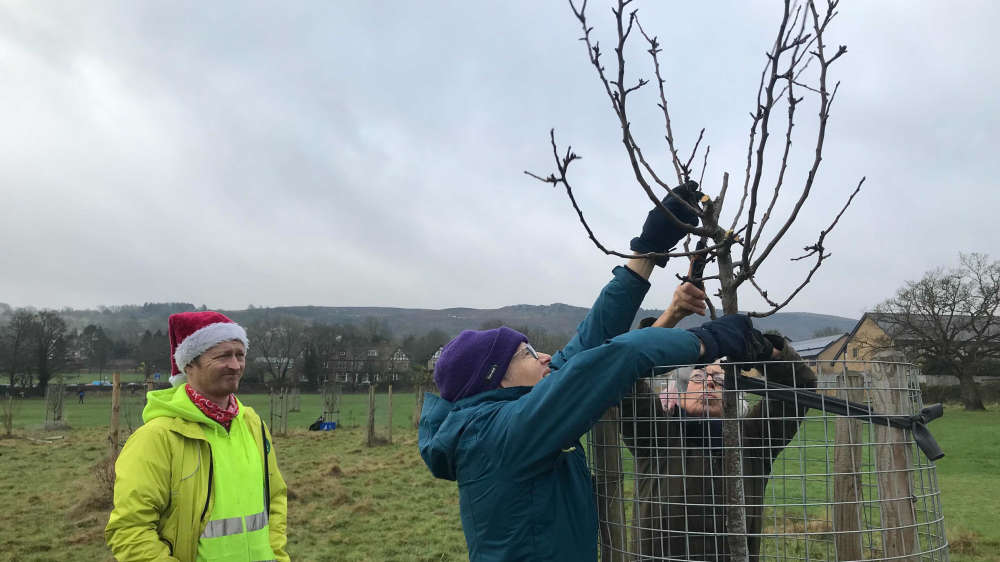 The Community Orchards in both Ben Rhydding and Ilkley are thriving and people are being invited to maintenance days next month.
Kate Stewart from Climate Action Ilkley told us: "They were planted by volunteers coordinated by Climate Action Ilkley in March 2020, and all except one of the trees have survived whatever has come at them, including floods and the first very dry hot summer, when the trees had to be watered regularly. We also managed to squeeze in a bulb planting session between lockdowns in autumn 2020.
"Things have been difficult during the lockdowns and the volunteers have not been able to meet or celebrate our achievements. Hopefully, that will change this year.
"Three members of the team have recently received training on formative pruning from Fruit Works, a social enterprise cooperative that helps communities in Leeds and Bradford to plant and maintain fruit trees. They now want to share that training with more people locally, so you can help us look after the fruit trees and also improve your skills for your own trees and gardens.
"We will be running two orchard maintenance days in early March, to finish the pruning and to weed and mulch around the fruit trees. These will be at the Ben Rhydding Orchard at Wheatley Fields on Saturday 5 March between 10:00am - 1:00pm and at the Ilkley Orchard at East Holmes Field, next to the skate park, on Saturday 12 March between 1:30pm - 4:00pm.
"Everyone is welcome to come along and help; you don't have to do any pruning if that is too daunting for you, there are plenty of other jobs to do! If you have any, please bring gardening gloves, secateurs, trowels, spades, buckets, or even bolt cutters! If you would like more information, please email Kath Steward at kath.steward@climateactionilkley.org.uk
"We look forward to seeing you in March."