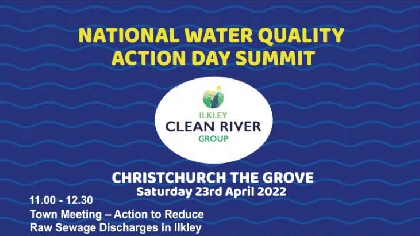 Ilkley Clean River Group is holding a joint Ilkley Water Quality Summit and Earth Day Celebration Street Party this Saturday, 23 April.
The summit will start with a Town Hall Meeting at Christchurch at 11am, asking the agencies represented:
1. Why most of the £13 million investment in the Wharfe announced by Yorkshire Water is so far upstream that it will have no impact on the sewage being dumped in the river in Ilkley?
2. Why Ofwat, the Environment Agency and Defra are not holding the water companies to account for profiting by underinvesting in our sewage system so that sewage is discharged 1/3rd of the Year in Ilkley?
3. Why the Environment Agency is not following through on its agreement to honour our BAthing Status Application and support a plan to clean up the Sewage treatment works in Ilkley?
4. Why this government is charging the very agency that oversaw the appalling pollution of our rivers to set new 'targets' for sewage discharges that are still not in line with the legislation?
5. Why Defra is proposing to put up people's bills by £12.50 in 2025 when we have been paying for our water to be treated ever since privatisation from which Yorkshire Water profited; and why there is no information about what it is asking water companies to invest in 2025.
6. Why Defra has not responded to all the learning points Ilkley has identified as a result of our Bathing Status, and continues with outdated guidance for applicants and is not supporting the clean up at Ilkley
7. Why the Environment Agency has still not issued the new permit for Ashlands STW that limits the sewage discharges to within legal limits.
Ilkley Clean River Group say it will be exploring how they can now take legal action to ensure that the pollution identified that affects people and wildlife in Ilkley is cleaned up.
A spokesperson for the summit said it will also include: "a talk from Patrick Godden and Jack Hanson, our litter picking heroes who did the Ilkley to London Litter pick, who have just got back from Antartica where they were learning about Climate Change, Here they experienced first hand the effects of climate change on earth's last great wilderness. From melting icebergs and cracking glaciers to shrinking penguin populations. In Antarctica climate change is inescapable. Hear how climate change at the end of the world will affect us all.
"Also in Christchurch they'll be seminars on water quality and the impact it has on our river and on Bathing Status and how to use it to secure a clean up. Plus a film of what is really in our river."
The street party starts at 12 noon outside on the Grove: "We will have tables set out for you to enjoy a picnic and music from Ilkley Live. You can bring your own food, we have some donated by Tesco, and you can also buy refreshments from the Saturday market, along with Bini Brew Co and Digin's Hut, Outside the Box (for cakes), Yorkshire Crepe, The Coffee Bean Machine, Buzz Coffee, Waste Not and Really Indian.
"Music on the Bandstand and at the 'pop up music gazebo' kicks off at 12.30 after the Town Crier declares the Rights of the River Wharfe and we play on until 5pm."
There will also be displays from 10.30am to celebrate Earth Day from Climate Action Ilkley, The Rivers Trust and iWharfe, Friends of Ilkley Moor, Ilkley Fairtrade, Wharfedale Nats, Wharfedale Tackles Plastics, Ilkley Pride, Ilkley Anglers, All Saints and Milestone, The Civic Society, Ilkley grammar School and of course Ilkley Clean River Group. If the weather is poor these will be inside in Christchurch.