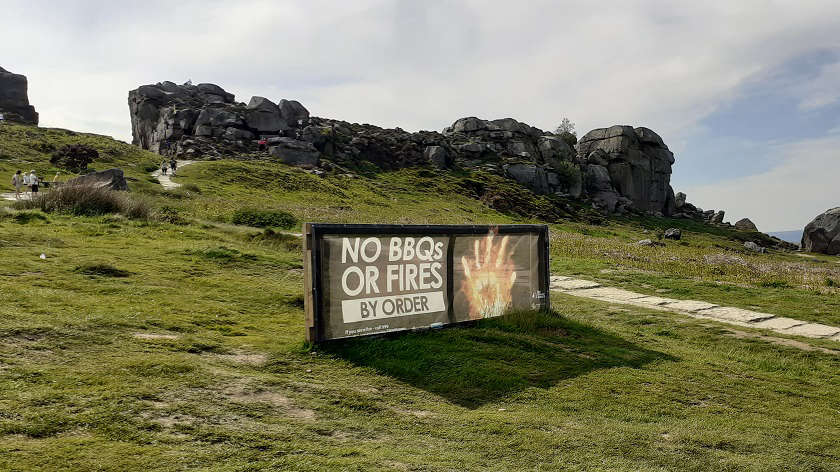 An order that makes lighting barbecues on local moorlands illegal could be extended for another three years.
Introduced in 2019, the public space protection order was introduced following a number of fires on Ilkley Moor that year.
It made it illegal to light a barbecue, set off fireworks, starting campfires or light Chinese Lanterns on the District's extensive moorland areas.
However, that order expires this summer.
At a meeting of Bradford Council's Regulatory and Appeals Committee on Thursday morning, members voted to begin a public consultation that would lead to the order being extended by another three years.
The need for such an order is particularly relevant, as the meeting came just a few hours after a huge blaze on Marsden Moor that saw 60 firefighters scrambled to the National Trust site.
A report to the committee said that while most moorland fires are caused accidentally, they can still be devastating for the moors, as well as costing the public purse huge amounts of money due to the intensive response from fire fighters needed to bring fires under control.
At the meeting Danny Jackson, Countryside and Rights of Way Manager, told members that since the protection order was introduced, there had been no major moorland blazes in Bradford. But he added: "Wildfires are still a risk, and there have already been three or four in Kirklees this year.
"We have been assisted in enforcing this order by West Yorkshire Fire and Rescue Service, who have pledged to respond if someone rings them to report someone with a lit BBQ on the moor."
Councillor Matt Edwards (Green, Tong) asked if the council had any power to stop shops from selling disposable barbecues.
Mr Jackson said the council had worked with the fire service to visit a number of shops to encourage them to remove disposable barbecues from sale. If shops insisted on selling them, the council would provide staff with leaflets warning any buyers of the consequences of using the barbecues on moorland areas.
He added: "Earlier this month it was in the news that Waitrose and Aldi would stop selling disposable barbecues, so there is a shift among retailers."
Mr Jackson told members that with the weather improving, staff would be installing signs warning of the order in moorland areas from Friday.
The committee unanimously approved the new consultation – which will last for six weeks. If there is no major objection from the public the, new order will be implemented and last until 2025.