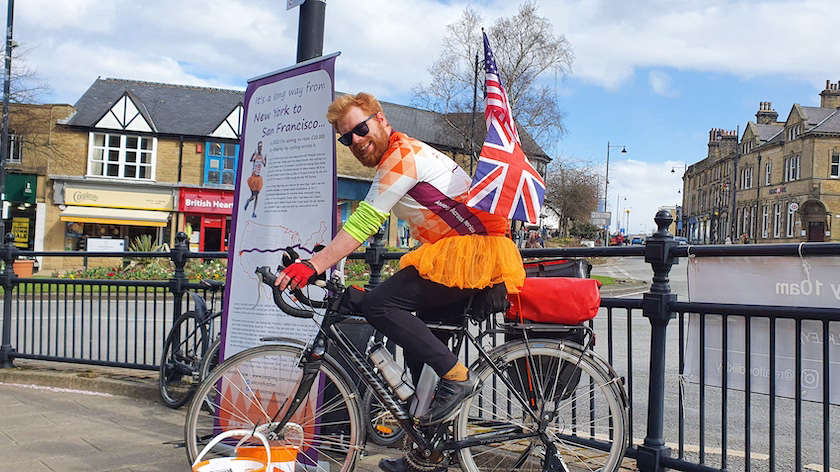 Ilkley resident Antony Butcher is preparing for an adventure of a lifetime as he cycles from New York to San Francisco in aid of The MS Society.
Originally planned for April 2020, the solo ride had to be cancelled because of the pandemic.
Antony flies out to the US tomorrow (Wednesday) ahead of starting the ride in New York on Saturday morning.
He's hoping to raise a total of at least £20,000 for the MS Society, a cause that is close to his heart as his mum has been living with Multiple Sclerosis for over thirty years, and now lives in a local nursing home.
As well as raising money for charity, Antony is also hoping to raise awareness of mental health, and has recently shared his personal journey with local primary and secondary schools.
Antony says "After five years of planning I'm excited to finally set off on this epic adventure. Since I first started fundraising for the MS Society there have been some exciting breakthroughs and I hope that the money I raise will bring us one step closer to eradicating this horrible condition".
Tap to listen to Antony talking to Rombalds Radio
Antony will spend 3 months cycling nearly 4,000 miles between New York and San Francisco. His journey will take him across 3 mountain ranges, climbing a total of nearly 100,000 feet - three times the height of Mount Everest.
He will be travelling by himself, cycling about 50-70 miles most days, and sleeping in the homes of Americans who have offered him a place to stay for the night.
If you'd like to follow Antony's journey you can do this at facebook.com/antonyacrossamerica, instagram.com/antonyacrossamerica, or twitter.com/antonybutcher.
He'll also be sharing updates on his website, antonyjcbutcher.com. If you'd like to sponsor Antony, you can do this at justgiving.com/antonyjcbutcher.