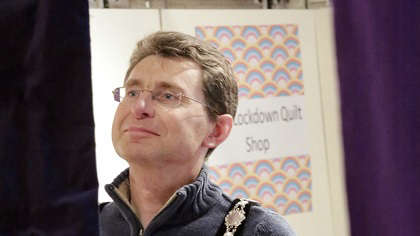 Ilkley's Mayor, Mark Stidworthy, viewing the Lockdown Quilt exhibition
The doors have now closed on the Ilkley Lockdown Quilt exhibition at Ilkley Manor House, the community project that had created 126 personal and unique reflections of the first lockdown in 2020.
The exhibition also displayed the Scrubs sewing group quilt, the 'Stories behind the Squares' film which can still be viewed on YouTube and images from Ilkley Camera Club.
Over 1,500 people came to see the exhibition and the reflections they left in the comments book showed the importance of the exhibition to the town. This is the word cloud capturing some of these reflections.
'It has been a wonderful project to be involved in' says Sarah Thomas, Chair of the Trust 'and the comments from visitors show how important it has been to the community'.
To mark the close of the exhibition an event was held to say thank you to the stewards, sewers and everyone involved in making the exhibition such a success. One of the sewers serenaded the event with her saxophone.
Helen Hawney, volunteer coordinator at the Manor House commented 'As a volunteer led organisation we rely on the fantastic support of our volunteers and stewarding the Lockdown Quilt exhibition was no exception. The stewards helped visitors to get the most from the exhibition and were all a real asset to the Manor House. We are hoping that many of them will want to help us again at future exhibitions.'
The quilts are having another outing at The Knitting and Stitching Show in Harrogate later in November and discussions are underway about loaning a few of the banners for a short period of time to organisations in Ilkley so that they can be on display for a little longer in 2021.
The longer-term plan is to keep the quilts together and to display them again in the future. The banners could also be loaned to schools and other institutions as a teaching aid about the pandemic in future years.
To find out more about volunteering at Ilkley Manor House email Helen on volunteer@ilkleymanorhouse.org