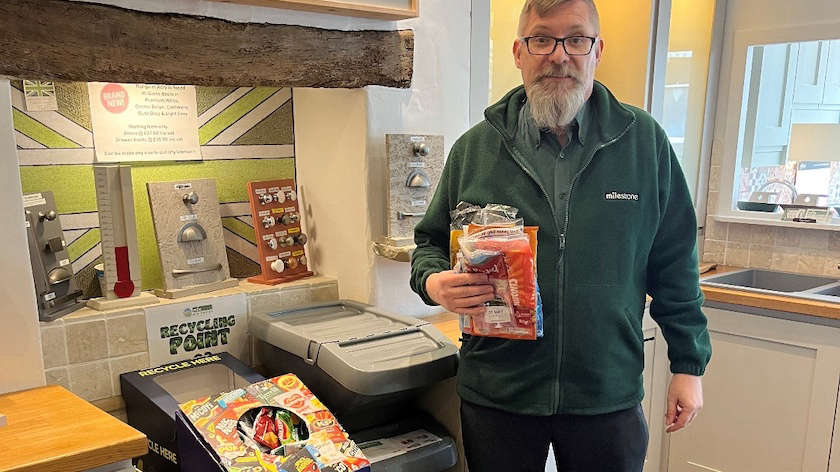 An Ilkley shop is making the un-recyclable recyclable thanks to its in-store collections, and raising money for a Yorkshire sports team at the same time.
Milestone Design, on Leeds Road, has signed up to recycling programmes to take packaging from brands such as Cathedral City Cheese, McVities and Jacob's biscuits and snacks and Marigold rubber gloves.
It means that a variety of materials - that can't be recycled by Bradford Council so would otherwise go in your normal waste bin - can be dropped off at the shop and recycled by TerraCycle.
The collection point in the company's showroom allows anyone to drop off empty products and packaging for recycling - including cheese packaging, biscuit and snack wrappers, personal care product packaging, home care product packaging, bread bags and more.
Milestone Design Ltd is kitchen designer and fitter - and the UK's first producer of totally green kitchens made from recycled materials.
As well as recycling the materials Milestone Design send in, TerraCycle also awards the business with points for each parcel sent in. These points can be redeemed as monetary donations to the charity of their choice. Through their collections Milestone Design are raising money for Bradford Dragons Basketball Community Foundation.
Simon Carter, Showroom Manager says: "As a business which specialises in designing and fitting eco-friendly kitchens, recycling as much as possible ourselves is a priority. Not only do these TerraCycle programmes allow staff to recycle more waste, but we've also been able to make these solutions available to the local community by setting up a public drop-off location in the showroom. This has been possible largely due to the wonderful team of volunteers that come to help us sort and package the waste."
The collected material Milestone Design sends into TerraCycle is recycled by shredding, cleaning and turning into a pellet format which can then be used by manufacturers to create new plastic products, reducing the need to extract new resources from the planet.
Simon added: "So far we've raised £285 for charity by sending this waste to Terracycle. We donate the funds to Bradford Dragons Basketball Community Foundation, which works in all areas of the community, providing opportunities for people to get involved with sport. This is a really great cause so we encourage everyone to visit the showroom and drop-off their waste. The more we collect, the more we can earn for charity!"
The Milestone Design drop-off is open Monday to Friday 9am-5pm.
For more information about TerraCycle, or to get involved and help Milestone Design with their recycling efforts, visit terracycle.com/en-GB.