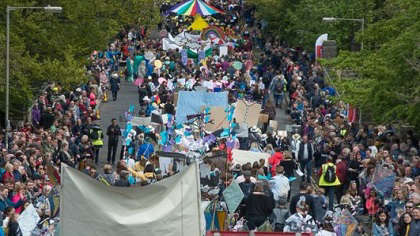 The crowds can line the street again with the return of Ilkley Carnival and Parade on May 2 2022
After a two year Covid enforced absence Ilkley carnival has confirmed the family fun day will return this year on the May Day bank holiday, Monday 2 May.
'Our Planet', originally chosen for the cancelled 2020 event, will remain the theme for this year, reflecting the importance of environmental issues. The Friends Of Ilkley Moor continue as the main beneficiary, having originally been selected in 2020 following the judging of applications received from many local groups.
Tracy Gray, Project Officer from the Friends Of Ilkley Moor said "We are delighted to be the beneficiaries for this years Ilkley Carnival funding. The funding will support the continued work on our Peatland Restoration Project, which will have wide benefits for wildlife, carbon storage and increased flood alleviation for Ilkley, with a wetter peatland also helping to prevent wildfires."
Mary Moore from Ilkley Carnival added "Ilkley Carnival gave £15,000 to local groups following the last event in 2019 and over £70,000 in the preceding five years so we hope our community supports the event again so we can assist this worthwhile cause. We are delighted High Speed Training have already committed to continue as our main sponsor and support the biggest one day annual event in the Ilkley calendar."
Entries have already been submitted for the Carnival Parade which regularly has over 1,000 local children walking from the town centre to the Carnival showground. Parade organiser Karen Hitchen said "The parade is the highlight of the event for many, bringing colour, music and happiness to the streets of Ilkley and we are looking forward to seeing this spectacle back in our town."
Andrew Stacey, Chairman of Ilkley Carnival confirmed preparations were well advanced and thanked the community for their patience in what has been a difficult two years for many. He said "Ilkley Carnival has always been by the community, for the community and we are pleased that our careful financial management together with the community support has ensured the event has survived when others have disappeared."
For further information include advertising & sponsorship, the parade and trade & charity stands please go to the carnival website: www.ilkleycarnival.org