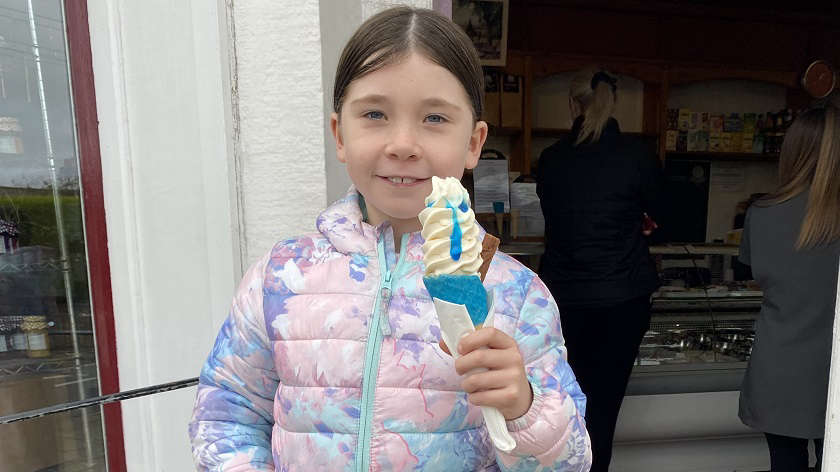 Eight year old Beau Kovacs has become the first young member of the Wharfedale Wombles to claim a free soft-serve ice cream with her validated, fully-punched Treat Card following attendance of four Community Litter picks.
Beau has been a regular and avid litter picker, attending the monthly Community Litter Pick in Burley-in-Wharfedale with her parents and dog.
The Wharfedale Wombles Treat Card was designed and developed by Alexander Hughes, 15, who is the Young Lead and Founding Member of the group. Alexander suggested the idea for a 'treat card' to incentivise local young residents to regularly attend monthly community litter pick events.
The card was launched during the Community Litter Pick in May this year, to coincide with the King's Coronation and National Volunteers Day.
Those who have their 'Treat Card' fully punched – a punch for each time they participate in a Community Litter Pick – four times get an ice cream at the Wharfedale Deli.
The Wharfedale Wombles are a group of resident volunteers who care about the environment and the community of Burley in Wharfedale. The group was set up four years ago by Alexander, and his Mother, Loraine Hughes. It is sponsored by The Burley in Wharfedale Community Trust.
Group lead a variety of activities to keep the village litter free, and volunteers can choose to participate in events and activities to suit their schedules and capabilities.
The next monthly Community Litter Pick is this weekend, Sunday 5th November meeting at The RoundHouse, Grange Park at 10am.
For further information please email WharfedaleWombles@Outlook.com or visit the Wharfedale Wombles Facebook page.