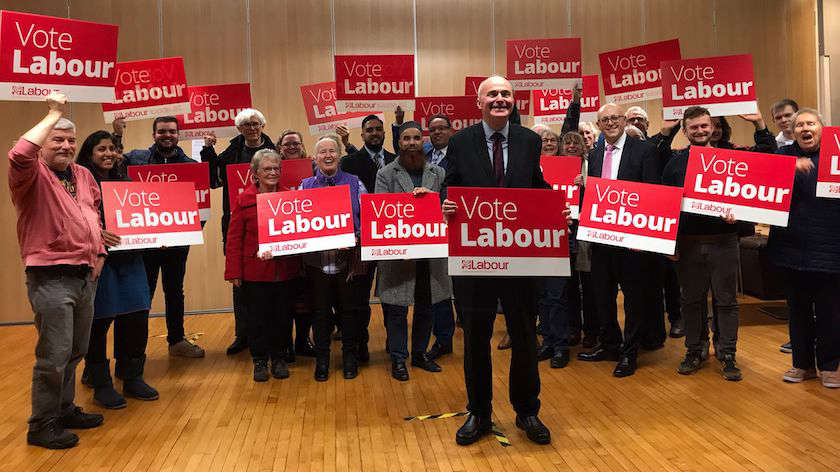 John Grogan, who was the MP for Keighley and Ilkley between 2017 and 2019, has been picked by the Labour party to be its candidate again in the next general election.
Mr Grogan was beaten in the 2019 election by the current MP Robbie Moore who got a majority of 2,218 for the Conservatives.
The Keighley and Ilkley seat has often seen an incredibly narrow poll between Labour and the Tories, and has changed hands a number of times in recent years.
John Grogan's selection as the Labour prospective parliamentary candidate (PPC) was announced on Sunday at Keighley's Central Hall, with him beating two other shortlisted candidates - Margaret Pinder and Patrick Kilduff. Mr Kilduff is the grandson of Bob and Ann Cryer, who both held the post of Keighley MP. His grandfather was the MP from 1974 to 1983 while his grandmother represented the constituency between 1997 and 2010.
More than 300 local Labour Party members took part in the vote.
Mr Grogan told Rombalds Radio: "Keighley and Ilkley is a classic marginal seat. It is the 23rd seat on the target list for Labour at the next General Election in terms of the swing required. I feel a big responsibility to win this seat for Labour again and help put Keir Starmer into Number 10 Downing Street.
"There is a feeling around that so much in the country is not working at the moment. We need a competent Labour Government with a plan for a fairer, greener Britain. I will aim to be a strong, independent minded, Yorkshire voice for Keighley and Ilkley in the next Parliament.
"Since 1983, when it was first contested, Keighley and Ilkley has been a two horse race between Labour and the Conservatives. I look forward to robust, but always civil, debates with the current Member of Parliament. On some issues such as the need to rebuild Airedale Hospital, which I first raised during the last Parliament, I hope we will be able to work together."
During hustings for the selection process to be the area's Labour candidate, Mr Grogan told party members that he would seek to 'unite not divide' the constituency and would 'do all he can' to help regenerate Keighley town centre. He also said he would help to revive the campaign to restore the Skipton to Colne rail link, creating the possibility of direct trains between Keighley and Manchester.
As well as the two-year spell as Keighley and Ilkley's MP, John Grogan was the MP for Selby for thirteen years between 1997 and 2010 during the Tony Blair and Gordon Brown governments.
Mr Grogan lost in Keighley in 2015 to the Conservative candidate Kris Hopkins by just over 3,000 votes. He then won it from Mr Hopkins in the 2017 general election with a majority of just 239 votes.
🎉 Congratulations to John Grogan on his successful selection as the Keighley and Ilkley 🌹 Labour Party's candidate for the next general election!

If you would like to get involved in our campaign to win back Keighley, you can contact John at john@johngrogan.org.uk. pic.twitter.com/Ks4DZXzvFc

— KeighleyLabour (@KeighleyLabour) November 27, 2022
The moment this afternoon when John Grogan was announced as Labour candidate at the next election for Keighley, his old seat. pic.twitter.com/FFDzU8OFWL

— @Tomorrow'sMPs (@tomorrowsmps) November 27, 2022