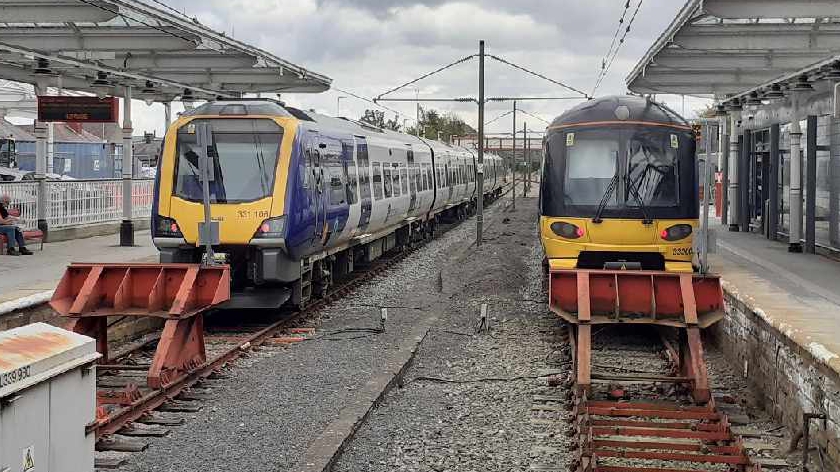 A boss from train operator Northern has assured passengers that a reduction in services on the Airedale and Wharfedale lines will only be temporary.
Earlier this month, it was announced that services between Bradford and Ilkley and Bradford and Skipton would be reduced from half-hourly to hourly services from mid May.
The announcement led to widespread anger from passengers and politicians.
Northern said the cuts were due to "fewer commuters travelling each day, and people travelling at different times of the week and for different reasons."
They added: "We've made decisions about our timetables based on the levels of resource we have available.
West Yorkshire Combined Authority's Bradford District Consultation Sub-Committee is made up of local transport users as well as council representatives.
Its last meeting, shortly after the announcements, was attended by Pete Myers, client and stakeholder manager for Northern.
Asked to explain the cuts, he said: "One thing has done is rob us of available drivers.
"We had a year when we were able to do no training, because you couldn't social distance in a driving cab. That mean we couldn't train drivers through the whole of 2020.
"This meant we had a backlog of not only new drivers who needed training, but existing drivers who needed further training. It is not where we want to be.
"The issue is we don't have a huge number of fully qualified drivers."
He said service cancellation figures were currently around five per cent.
Mr Myers added: "We are making more cuts in May so we can make sure we run a reliable service for customers and so we can catch up on training.
"Any of these cuts are short term, that is the plan.
"The reasons we picked the Bradford to Ilkley and Bradford to Shipley to go hourly was because the numbers were much lower than other routes.
"That is the situation we are at. What we've done is a short term measure."
He went on to tell members that while user numbers were around 80 per cent of what they were in 2019 commuter numbers were only around 40 per cent. Mr Myers said: "Commuters are our bread and butter. They are coming back, but very slowly.
"What we are seeing is a much higher level of leisure travel, people getting the train into Bradford city centre."
He said when commuters were returning after working from home due to the pandemic, many were only doing so for a few days a week. Wednesdays and Thursdays were the days when more commuters seemed to decide to work from the office.