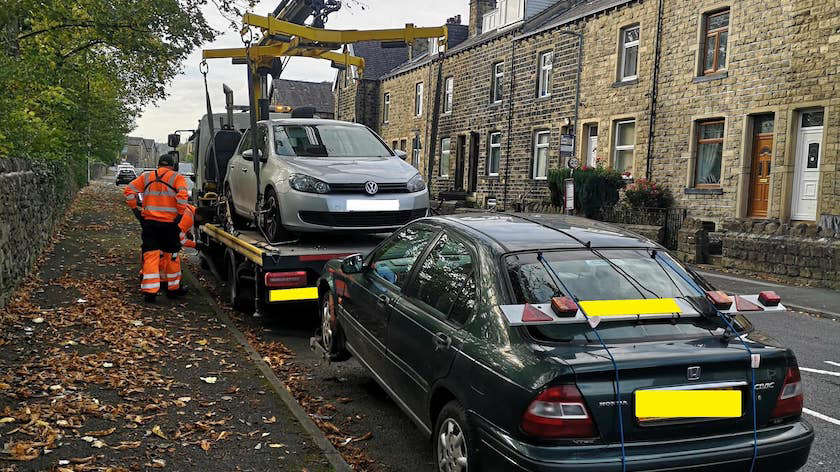 New powers that would allow council officers to tow away abandoned vehicles parked on public roads in the Keighley and Ilkley areas could soon be introduced.
Bradford Council is seeking to amend its traffic powers to allow the authority to identify unlicensed and uninsured vehicles parked on the highway.
Officers would then have the powers to remove, store, and dispose of these vehicles -as well as claiming back any costs if owners are identified.
The Council hopes that the changes will make it easier to tackle the problem, as current rules can often see vehicles "fall through the gap" due to questions over whether the Council or DVLA are responsible for removing the vehicles.
The planned changes will go before Bradford Council's Executive on Tuesday.
If approved, the amendments would also give the Council greater action to tackle people who use public highways to store vehicles that are for sale, and people who use public roads to carry out commercial vehicle repairs.
Bradford was recently named one of the worst cities outside of London for abandoned vehicles.
There were 7,625 reports of abandoned cars to Bradford Council between January 2020 and December 2022.
The Council does not currently have legal powers to remove vehicles if the owner comes forward to claim it, it is not parked in violation of any restrictions, and has valid MOT, tax and insurance. The DVLA deals with untaxed vehicles.
Councillor Alex Ross-Shaw, Bradford Council's Executive Member for Regeneration, Planning and Transport said: "These new powers will enable officers to be able to act swiftly in removing these illegal vehicles from the roads."
Powers that would be delegated to the Council if the changes are approved include:
Power to authorise the removal of an abandoned motor vehicle on land forming part of a highway road to a Council approved storage facility in accordance with the provisions of Section 3 of the Refuse Disposal (Amenity) Act 1978.
Power to prepare and serve a notice advising of the Council's intention to remove for destruction any motor vehicle at the end of the prescribed period in pursuance of Section 3 of the Refuse Disposal (Amenity) Act 1978.
Power to authorise and arrange for the disposal of any vehicle in the Council's custody in accordance with Section 4 of the Refuse Disposal (Amenity) Act 1978.
Power to authorise the Director of Legal and Governance to commence actions required for the recovery of expenses connected with the removal of abandoned vehicles in accordance with Section 5 of the Refuse Disposal (Amenity) Act 1978.