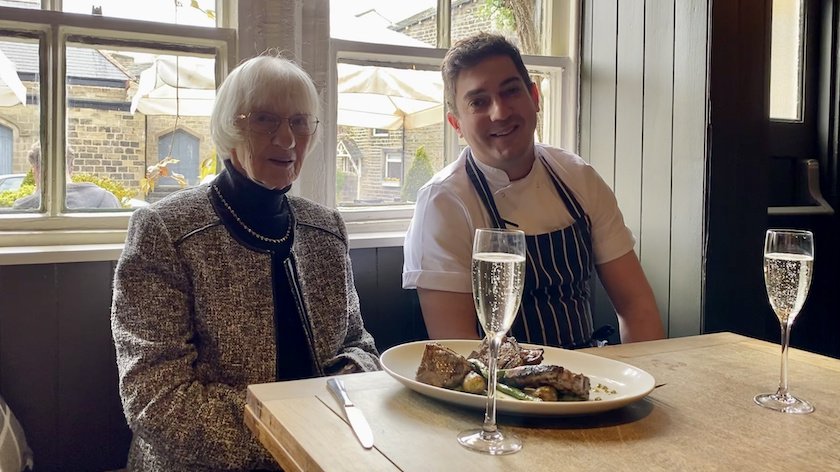 93 year old Betty Spensley was guest of honour at The Fleece in Addingham this week, which has reopened with her grandson as its new Head Chef.
Will Bonfield says his grandmother inspired him to love cooking and get into the hospitality profession - so it was fitting that Betty was first through the door when the pub reopened on Monday, celebrating with a glass of champagne and a lunch of lamb cutlets.
Will says: "I used to stay with my grandparents who farmed at Bolton Abbey and the very first dish I helped her cook, at just 4 ½ years old, was some lamb cutlets. I was at her side as she explained how and what to do. It sounds nonsense, but that night I wrote a card to mum and dad who were on holiday, telling them what I had been doing, and how much I'd enjoyed cooking."
Betty said: "Will had shown so much interest in cooking when he was a boy and was always keen to learn from me. He's worked so hard in London and abroad to learn his craft, and now he's head chef at The Fleece, it's everything I could have wished for. It was a thrill to see so many guests enjoying his food and his lamb cutlets definitely get my thumbs up - I can't wait for everybody to enjoy his food."
Manager Hywel Morris, who used to run The Fox in Menston has also been brought in by owners The Oakman Group. He said: "I've always dreamt of managing The Fleece. It's in an historic village, famous for its wool heritage with an especially supportive community. Having lived locally since I was 11, it's been one of my favourite haunts for years - I love seeing friends and families here, many of whom are people I've known for much of my life, relaxing over food and drinks.
"The Fleece always had a great reputation for serving good food and being attentive to guests' needs. That reputation means we've been lucky enough to be able to attract some really good people to join our team."