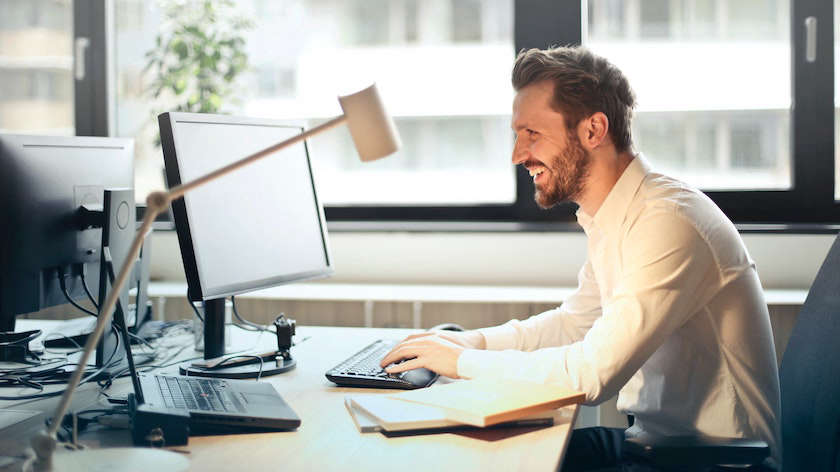 A growing number of people consider the climate commitments made by the companies for which they work.
Employees who leave firms for lack of values have been called 'conscious quitters.'
KPMG, a consulting firm, recently surveyed 6,000 office workers and students.
The study found that 20% of respondents had rejected job offers due to the fact that they felt a company's values, such as its environmental, social, or governance factors, did not match their own. This percentage was higher among those aged between 18-24.
Another study conducted last year found that a third (33%) of UK employees would quit their job if their employers didn't do anything to decrease or eliminate their carbon footprint. Supercritical, a platform that helps companies measure, reduce and offset their climate impact, conducted a survey among 2,000 UK workers.
The sentiment was even stronger in Gen Z, with more than half of those aged 18-24 saying that they would leave a company because it had credentials for net zero.
Supercritical's co-founder, Michelle You, says that businesses can no longer change or abandon their sustainability initiatives on a whim.
"Employees demand more, and employers are held accountable." Therefore, climate action is a must for those who want to retain and attract top talent. Otherwise, they risk being left behind.
What kind of companies cares the most about the environment?
Companies most dedicated to environmental sustainability and social responsibility tend to prioritize sustainability and social responsibility in their business operations, acknowledging the significance of reducing their carbon footprint, cutting wasteful practices, and conserving natural resources. As part of their sustainability and environmental responsibility efforts, companies may invest in renewable energy sources, incorporate green technologies into their products or services, or participate in philanthropic efforts that support environmental causes. Examples of such companies are Patagonia, Tesla, Whole Foods, and Interface.
However, many other businesses across industries are taking steps to minimize their environmental footprint - and sustainability and environmental responsibility are becoming ever more widespread practices. Let's take the lottery industry, for example. Lottoland.co.uk was the first company in 2019 to sign The Climate Pledge. Tunley Engineering has partnered up with Tunley Engineering to implement measures to measure, report, and offset its carbon impact. Tunley Engineering performed a carbon analysis for Lottoland earlier this year. This allowed the company to visualize and understand its annual carbon equivalent tonnes. Lottoland has implemented a roadmap in response to the assessment to achieve net-zero carbon emissions by 2020. Lottoland, in collaboration with Tunley, has planted 2,799 354 trees as part of several offset initiatives. These include the Eden Reforestation Projects and Usambara Biodiversity Conservation. Lottoland estimated its CO2e emissions for 2019 at 140.19 tonnes per year. However, the company has been able to reduce these emissions by 133.12 tonnes in 2022. The company has made changes, such as encouraging employees to carpool or commute via e-bike and installing occupancy sensors to ensure air conditioning is only used during the most critical hours
What percentage of people would like to work for a climate-conscious company?
The current trend in the workforce shows that many individuals, particularly the younger generation, are seeking employment with firms that uphold strong values. According to a post on LinkedIn by former Unilever chief executive Paul Polman, people are seeking jobs that offer fulfilment and allow them to work for companies that are committed to solving the world's problems rather than contributing to them. Polman discussed the Net Positive Employee Barometer's results, which surveyed over 4,000 workers in the US and UK. The survey found that the majority of workers in the UK were dissatisfied with their employer's efforts to improve societal well-being and the environment. More than 75% of respondents stated that a company's public-facing efforts to address social and environmental issues were crucial when considering job applications.
Additionally, 45% of respondents claimed they would consider resigning from their position if a company's values did not align with their own. Polman believes that we are currently living through an unprecedented period of human history, characterized by pandemics, war, global warming, economic turmoil, and social division, which are all threats to our stability and future. He notes that younger employees are particularly concerned about the world they will inherit.
London's 'green' offices are more than 25% more expensive. Modern workers expect it.
According to the analysis of the Energy and Climate Intelligence Unit, a fifth of the largest companies in the world have committed themselves to achieve net-zero emissions. A large part of these emissions comes from the workplace.
Prices are rising as demand for sustainable offices increases. According to data, the difference in prices for London buildings that have sustainability ratings, such as BREEAM or LEED, and those that do not, is 26%.
The concept of the "green premium" and "brown discount" are commonly used to describe the price differences between environmentally friendly and less sustainable buildings. However, the decision to choose between lower overheads and lower emissions is not always so simple. Joy Nazzari, a founding director based in London, is facing the challenge of relocating her business to a more accessible space for people with disabilities. Despite her desire for a larger office space with better green credentials, Nazzari has found that the cost increase would be at least 50% higher than what she's seen on the market so far. She admits that it's hard to resist a building with a "brown discount," even though finding sustainable spaces is challenging. She estimates that fewer than a third of the buildings she has seen would meet her requirements. Nazzari is also concerned about company branding and how new office space will reflect her business. However, she is under pressure from her young employees, who are passionate about the environment and frequently bring up the green agenda.
According to the global JLL Future of Work Survey 2020, even with increased costs, most companies are willing and able to invest in green workspaces. According to the research, 74% of companies represented by 1,095 senior real estate decision-makers in 13 countries "are likely" to pay more for green credentials, with 56% planning to make this investment by 2025.
Main source for the article: https://www.euronews.com/green/2023/02/17/would-you-quit-your-job-over-climate-inaction-a-third-of-uk-employees-say-they-would