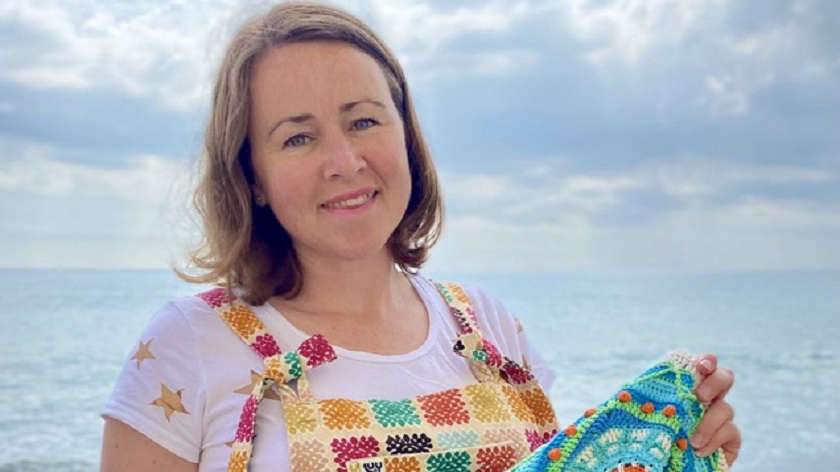 Eleonora Tully of Coastal Crochet will be at Yarndale (24/25 September at Skipton Auction Mart)
With Yarndale, Skipton's annual creative celebration of all things 'woolly and wonderful', now only weeks away, the team have announced their schedule of popular talks and workshops which are now available to book on the Yarndale website. 
Joining the show for a series of fascinating Yarndale Theatre Creative Conversations are crochet designer and blogger, Eleonora Tully of Coastal Crochet, Scheepjes Blogger and designer Dedri Uys, and Friend of Scheepjes, Matt Farci.
Nominated for 'Social Media Superstar' in the 2022 British Knitting and Crochet Awards, Eleonora is renowned for her beautiful coastal-inspired crochet designs and has a large global following on her social media channels and her popular 'Coastal Crochet' blog.
She will be talking about her blanket design process and how she finds inspiration in the beautiful landscapes and seascapes where she lives and how these initial ideas are translated through to a finished pattern. There will be lots of tips for budding designers and Eleonora will be bringing all her famous original blankets.
Dedri is a leading crochet blogger for the Dutch brand, Scheepjes, best known for her pattern for the beautiful Sophie's Universe blanket. She will share her insight on all things crochet as well as her creative process.
Speaker and blogger Matt will share his favourite new products from Scheepjes and introduce a show and tell segment where participants will get the opportunity to share some of their favourite makes.
There is also an eclectic choice of hands-on workshop sessions across the weekend to inspire visitors to try their hand at a new skill and learn new techniques; all led by experienced practitioners.
These include how to make a Boho woven wall hanging, how to crochet a Turkish beaded necklace and how to knit Yorkshire Dales gloves, amongst others.
Celebrating the brilliance of wool in all its forms, this award-winning festival brings together a fabulous range of makers, craft workers, retailers, and artisans in Skipton and attracts yarn enthusiasts from all over the world to enjoy a wondrous woolly weekend.
The show is designed to encourage everyone to share ideas and creative inspiration and aims to bring together a community of like-minded crafters. Visitors will find plenty of ideas for new projects and an incredible array of yarns and equipment to browse through and buy.
The team is also delighted to announce that Yarndale has just been shortlisted for the Best Loved Knitting Show/Event in the 2022 British Knitting & Crochet Awards.
As team member Emma Sandoe says:
"We're absolutely delighted that Yarndale has made the shortlist for this prestigious award thanks to nominations from the Yarndale community. We'd like to thank everyone who did nominate us as it means a lot that visitors think so highly of the show. Of course, we'd love to win it so we hope people will vote for this very special event in Skipton by visiting www.letsknit.co.uk/awards."
Yarndale takes place this year on the 24th and 25th September at Skipton Auction Mart. For more information and to buy tickets, go to the Yarndale website at: www.yarndale.co.uk