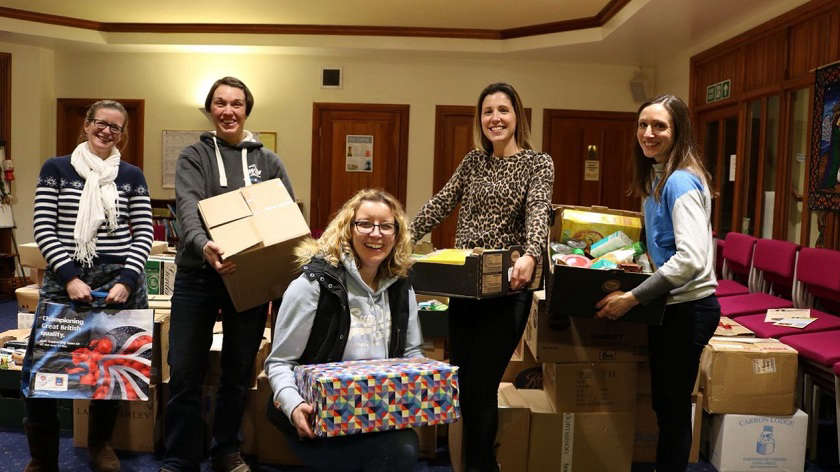 The Wharfedale Refugee Response team
The Wharfedale Refugee Response group is encouraging local residents who have not previously donated to its annual Reverse Advent Appeal to get involved this December.
With the cost-of-living crisis starting to bite, the need for the group's boxes of food and toiletry items is higher than ever amongst the most vulnerable people in our community.
As such, Wharfedale Refugee Response is calling on existing supporters and those who are yet to join in with the activity, to fill cardboard boxes with as many suitable items as they can during Advent. Volunteers will then take those products and distribute them between charities that aid refugees, those experiencing hardship, and food banks.
Now in its seventh year, the Reverse Advent Appeal involves people adding non-perishable food or toiletry items to a cardboard box during Advent. It is activity in which the whole family can participate; fostering understanding and empathy in children, and helping them to feel like they can do something positive to help others. On Monday 2nd January, Wharfedale Refugee Response members will collect the advent boxes at the Methodist Church in Burley-in-Wharfedale between 9am and 4pm, before distributing them.
Last year's appeal saw kind-hearted Wharfe Valley residents donate 455 boxes, holding more than 10,000 items.
Sarah O'Mahony of Wharfedale Refugee Response said: "Times are tough for everyone this year, but the current crisis disproportionately affects those in the most vulnerable situations. If you do have the ability to donate, however many items you can give; they will be gratefully received by one of our wonderful partner organisations. If you have never donated before, now is a great time to get involved.
This appeal doesn't work because a few people give a lot; it works because many people give a little."
Those organisations who will receive the Reverse Advent boxes include Positive Action for Refugees and Asylum Seekers (PAFRAS), St. Vincent's, Yorkshire Aid, Refugee Action, Leeds Refugee Forum, Bradford Immigration and Asylum Support and Advice Network (BIASAN), Meeting Point and various food banks.
The group has asked that people do not include alcohol, fresh food or Christmas items in their box.
For locals who want to help out but cannot commit to filling a box, there are a range of ways to show support which cost nothing. Sarah O'Mahony says: "people can share our Facebook posts, encourage their schools, churches and workplaces to take part or volunteer their time to help us collect and distribute the boxes. Any of these would really help the appeal."
For more information about this appeal and other initiatives, please visit the
Wharfedale Refugee Response Facebook page (facebook.com/wharfedalerefugeeresponse) or email wharfedalerefugeeresponse@gmail.com to join the mailing list.