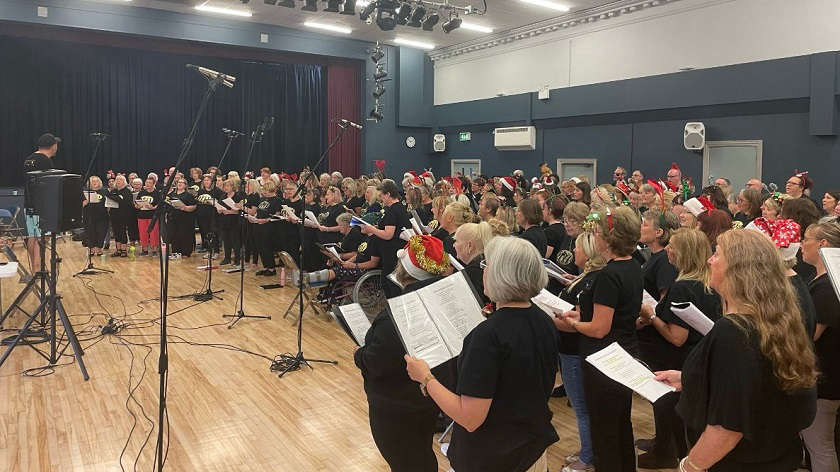 Voices of Yorkshire has choirs in Bingley, Pudsey, Skipton, Menston, Oakworth and Silsden, with members from Ilkley, Skipton and Keighley.
2023 has been an exciting year for Voices of Yorkshire. Their chosen charity for 2023 is Dementia UK and they have enjoyed various events raising money for a charity very close to their hearts. They performed on stage with a fantastic Beatles tribute band, The Beatles For Sale, in a doubleheader at the King's Hall in Ilkley. They sang at their first Festival, CrickFest in Cullingworth! They toured various summer events, galas, and fayres and will finish the year with their famous Christmas tour, taking in the iconic Haworth main street and several Christmas lights Switch On events to name but a few! But the highlight of their year has been to record and release their first charity Christmas Album, 'By 'Eck It's Christmas' for Dementia UK.
Starting in February of this year, Nick Ingram (founder of Voices of Yorkshire) began working on the tracks and arranging the harmonies and, after many hundreds of hours handed them over to choir members for them to learn. During the summer the amazing singers got stuck in learning the Christmas songs, including the classic White Christmas, the Frankie Goes to Hollywood hit, Power of Love and a beautiful folky version of Auld Lang Syne. They were also joined by Showkids who sang Sparkle and Shine from Nativity.
The rehearsal day was hot and surreal with singers arriving in summer dresses and flip flops! The recording took place the following week at the Victoria Hall in Keighley. In order to summon some September Christmas spirit, the singers arrived adorned in festive accessories!
"We were absolutely blown away by the standard of the singing, which just gets better and better every week! Our singers had worked hard learning the songs over the summer holidays and they sounded fantastic! The harmonies were tight and we were delighted with the result.
We've been incredibly lucky to work with Producer Andy Thornton who some people may know from the local band, The Guiseley Brothers. Andy has worked tirelessly to turn our idea of releasing a charity Christmas Album into something we are all super proud of. Andy has travelled the world with his work and has an incredible professional portfolio - we feel very lucky that he was available to work with us and go above and beyond for Voices of Yorkshire for another year running.
After arranging the songs, creating the backing tracks, learning the songs, rehearsing the songs, recording the songs, producing the songs, releasing the album, and partying at the album launch party, we are very proud to introduce By 'Eck It's Christmas! Available on all major streaming platforms with 100% of the earnings going direct to Dementia UK."
Nick and Sally of Voices of Yorkshire would like to thank their incredible singers for their dedication and hard work. "They always give 100%, they look after each other and they sound fantastic! Their love and kindness shines through in their voices and they are the embodiment of what Voices of Yorkshire is all about."
Voices of Yorkshire welcomes singers of all abilities, no experience necessary, just a love of singing! To join, book or find out more information visit; www.voicesofyorkshire.com