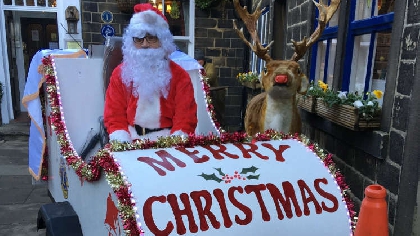 The Rotary Club of Haworth and Worth Valley are donating the proceeds of an upcoming Christmas fundraiser to Sue Ryder Manorlands Hospice in Oxenhope.
The hospice's finances were badly hit during the Covid lockdowns, so local Rotarians have decided to run a virtual 3.5 mile 'Santa's Sleigh Ride', with donations helping to propel Father Christmas from the group's headquarters in Oakworth to the front door of Manorlands.
The virtual sleigh ride will last from this Tuesday (14th December) until 5pm on Christmas Eve. With every £5 donation made to the appeal, Santa will move 25 yards further on his journey which can be tracked online.
President of the Rotary Club of Haworth and Worth Valley, Gary Gardner, says: "We'll be publishing a map of the route on the club's Facebook page and as the donations come in, we'll update the map to show people how much progress Santa is making.
"Manorlands does amazing work and there can't be many families in the Worth Valley and surrounding districts who haven't had reason to be grateful for the way in which they have treated a close relative or friend in the final hours and days of their lives.
"Our Club has been working with Manorlands during the Pandemic and we're hoping people will help Santa complete the journey from Oakworth to Oxenhope so we can make it possible for Manorlands to continue their good work."
You can make donations via https://tinyurl.com/santaappeal