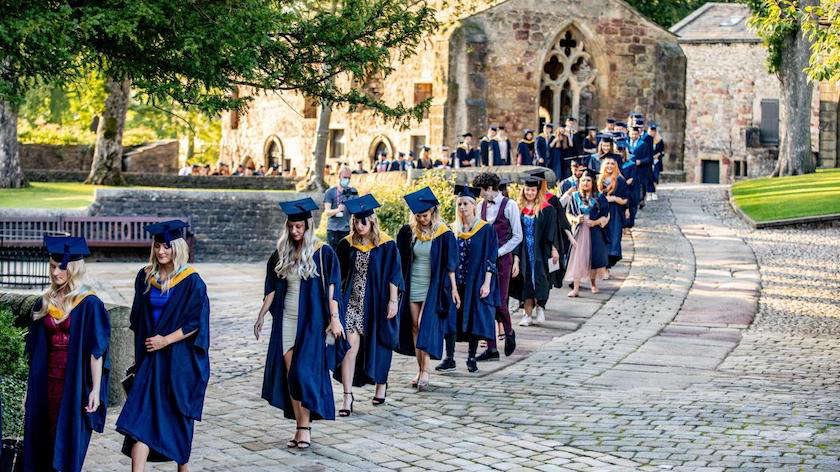 A special double graduation ceremony has been held at Skipton Castle and Holy Trinity Church to celebrate the achievements of Craven College students who finished their courses both this year and last.
Graduates celebrated last Friday (17th September) with friends, family and VIP guests of the college.
This year's celebration was incredibly special as graduates had studied and successfully gained a degree during one of the most challenging times of their lives, during a pandemic and a move to online learning.
The ceremony saw Craven College's Higher Education students graduating from Accounting, Business & Management, Animal Management, Aviation, Creative Industries, Land-based Studies, and Young Children's Development sectors from both 2020 and 2021.
Principal and CEO of Craven College Lindsey Johnson told the graduates: "This marks a major transition and significant moment in your life. You're graduating during a global crisis that has been so much more than a learning experience. It's a growing experience about the most important lesson of all – every obstacle that you have faced is an opportunity to learn, to grow and to change.
"I realise this has been a tough couple of years but we need to be positive. Because it's infectious. And where does that infection start? In your minds. So watch your thoughts. They become your actions. Watch your actions. They become your habits. Watch your habits. They become your character. Watch your character. Your character becomes your destiny. Let's all look inside ourselves and go out and create our destiny today."
The special guest speaker in attendance was Andy Pickles – CEO of U-Explore, an EdTech company specialising in careers guidance. For a number of years, Andy has also worked in the music industry, originally starting off as a sound engineer, but is widely known for being the number one artist Jive Bunny and the Mastermixers, selling over 10 million records worldwide.
Speaking at the event about the highlights and opportunities Andy has had in his career, he said "Anything is possible in life if you want it and take that chance. You guys here have got a phenomenal opportunity. You need to think 'What is your thing' that will motivate you and drive you on throughout your life. If someone offers you an opportunity – take the risk and just seize it. It doesn't matter if you fail at first, as if you fail you learn and go again."