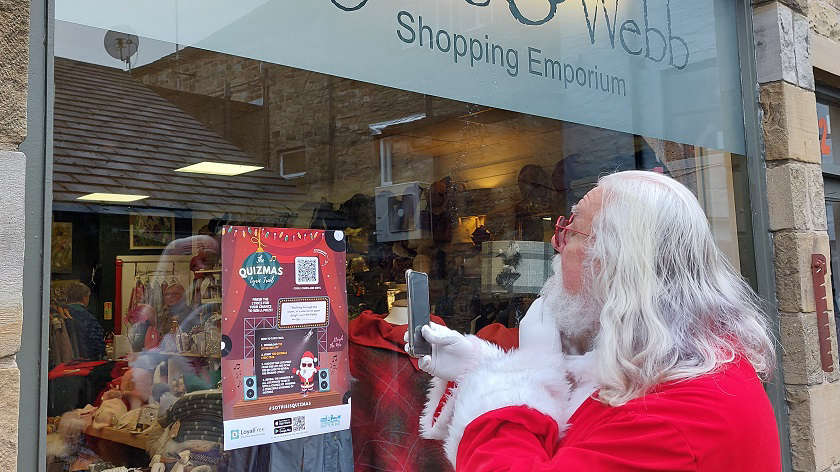 Singalong to Christmas with a new trail on the Loyal Free app with Skipton BID
Can you guess the missing lyrics to some Christmas classics? Test your knowledge with a fun, festive trail through December from Skipton BID.
Skipton BID, in partnership with the LoyalFree app, present The Quizmas Lyric Trail which will run from 1st December 2022 until 1st January 2023 with prizes to win.
This free interactive activity invites participants to jingle all the way along the trail, stopping at locations where you will find a poster displayed and they will be met with lyrics to famous festive songs, but some of the words are missing! Play along with friends and family to try and guess the missing lyrics. A group sing-along to jog your memory may help! Scan to 'check-in' and reveal the answers and see who got it right.
Can you guess this one? "It's the most wonderful time of the year. With the kids jingle belling and everyone telling you______".
Participants are encouraged to carol their way along the trail, scanning the QR codes at each location, those who take part in the trail will be entered into a prize draw to win a Christmas stocking of goodies. The more QR codes scanned, the more chances of winning!
Sarah Howsen Skipton BID Manager, said: "It is fantastic that we can work with LoyalFree again after the success of our Halloween Trail. Once again, we can offer free family fun which is a great opportunity to get friends and families out and about. Offering a free trail means everyone can have fun this Christmas! It is also brilliant for our businesses as we bring new people to town to explore areas they may not have visited before. We invited Santa to come and take part before he got too busy and he loved it!"
LoyalFree's Partnerships Manager, Sophie Carrick said: "We are delighted to offer this new interactive trail to our partners and hope to bring people together during this festive season. This trail provides a free opportunity for friends and family to spend quality time together while getting out and about discovering some previously unknown businesses while exploring the area."
To take part in the trail or access a selection of deals offered by local businesses to help you save some money this Christmas, download the LoyalFree app for free and head to the trail or deals section for more information. The LoyalFree app can be downloaded using this link: www.loyalfree.co.uk/download or by searching for 'LoyalFree' in your app store.