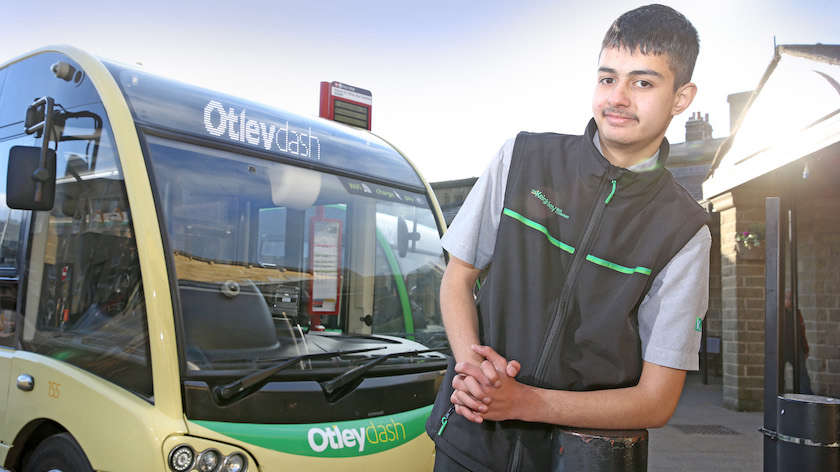 The Keighley Bus Company has taken on its youngest ever qualified bus driver - Kraish Symes - who's just 18 years old.
Kraish has left behind his day job behind the till for a new career on the road with the bus operator and says it's the job he always wanted to do.
"I'm enjoying every single minute" Kraish said. "Every day is different, and the best part of it is making someone's day with a smile or a quick chat when they get on my bus.
"I'd worked in a discount store for almost two years when I decided to make this change into bus driving, and I've never looked back since.
"I enjoy driving, plus the customer service skills I learned behind the till are helping me now to look after people on my bus. I'm usually on the Otley Dash route – we're the local bus in and around Otley and already I'm getting to know my regular customers every day.
"The people I meet are all happy and friendly and I'm just glad to be here for them. This is the job I always wanted to do."
Kraish qualified as a bus driver at The Academy, Transdev's dedicated training facility, under the watchful eye of instructor Barry Dean – who shares the young newcomer's pride as Kraish is his first successful pupil since he recently began sharing his many years of on-the-road experience with trainee drivers.
"Barry is a brilliant instructor and has helped me make it to where I am today," said Kraish. "I'd have qualified even sooner, but we had to wait three times longer than usual to get my licences and test date set up through the DVSA."
Transdev's youngest ever bus driver is now part of the team at The Keighley Bus Company, where General Manager Alan Isherwood is hoping to welcome more newcomers ready to follow Kraish's journey to a new career.
"There's no better time than now to join us," said Alan. "Kraish did it – and so can you! Our drivers come from a wide variety of backgrounds, and they all have one thing in common – they all care passionately about giving amazing customer service."