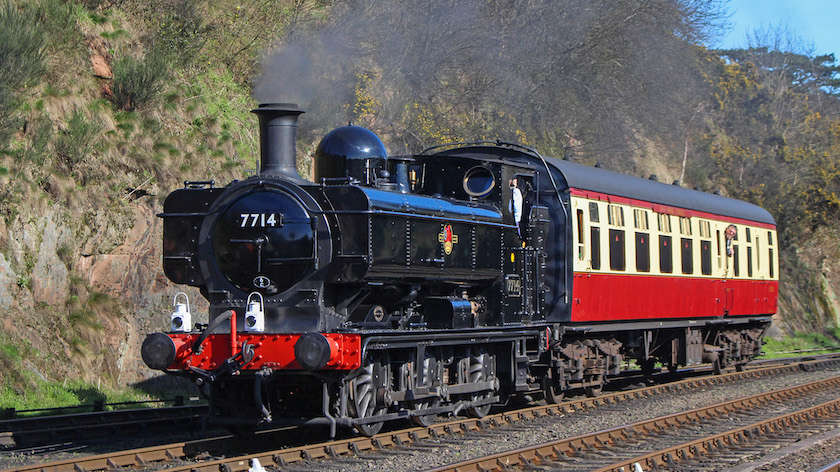 The Keighley and Worth Valley Railway has two visiting locomotives for an action-packed Steam Gala which is back for 2022.
A Royal celebrity in the form of Express engine 'Royal Scot' will join the KWVR's own fleet of locomotives, with the special attraction of a Railway Children 'look a like' engine - a 'Great Western Railway' Pannier tank.
Visitors will be given the chance to see both locos working up and down the line, recreating scenes from the 50s and 60s allowing you to step back in time and re-live the moments from the heyday of steam.
Visiting from the Severn Valley Railway, Pannier Tank 7714 will be bringing back memories of the filming of the Railway Children and back to the 90s when the Railway's own Example was running, which will be an attraction in its own right!
Both engines visited the Worth Valley four years ago when the Railway celebrated its 50th anniversary.
Noel Hartley, Business and Operations Manager says: "This year we have another celebration – 60 years of the Preservation Society which is a huge achievement for our members. It's a delight to welcome the engines back this year to help us celebrate!"
Alongside the very special appearance of Royal Scot will be another LMS express engine, number 45596, owned and cared for by the Bahamas Locomotive Society – which has its base at Ingrow West Station on the line. With a day rover ticket, you'll be able to call in at Ingrow and see the other engines & exhibits on display in the Engine Shed & Carriage Works.
They'll be a total of seven steam locomotives working along the line, with double-headed specials, top & tails, shuttles to Railstory at Ingrow, goods demonstrations, steam crane demonstrations at Oakworth station yard and express services throughout the weekend.
There will be a chance to grab a drink or snack from the on-train bars and enjoy the views from the comfort of your seat. With trains running from morning through to early evening you can make a real day of it. As your train arrives at Keighley, you can even re-live what it was like swapping trains with your next train waiting over on the next platform, waiting to take you on your next journey.
The Steam Gala takes place from Friday 11th March till Sunday 13th March, with intensive passenger services running across the weekends. For more details and tickets, including discounts for local residents, see kwvr.co.uk.
GWR 7714 hauled a goods train through the Haworth countryside yesterday afternoon. One of the guest locomotives that will be running across the Steam Gala Weekend

Don't forget you can buy your ticket on the day at any station.#kwvr // https://t.co/KOtvrvPXYu pic.twitter.com/mWxJSGs2qX

— Keighley & Worth Valley Railway (@WorthValley) March 9, 2022