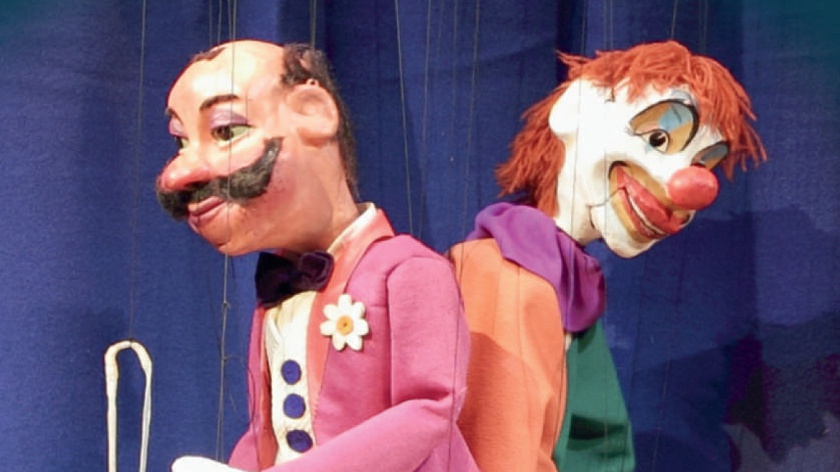 Due to Covid the normal huge biennial Skipton International Puppet Festival cannot happen this year, instead the organisers have programmed a series of puppet events for the second weekend of every month from June to November.
The first weekend of activities is going ahead this weekend, Saturday 12 and Sunday 13 June. The opening weekend which is outdoor only will see a rolling programme of shows at Skipton Canal Basin including the one and only Uncle Tacko from Promenade Promotions with his amazing performing circus fleas. These miniscule acrobats never fail to delight and amuse. Thingumajig Theatre will be performing their moving show, 'Kit and Kaboodle' set on a pack mule and Lempen Puppet Theatre will perform 'The Fisher and his Wife' on old Brother Grimm Tale set on a penny farthing bicycle.
Czech born Lenka Pavlicova will be showing her exquisite carved marionettes and demonstrating her amazing carving technique. Lenka's unique marionettes and glove puppets are skilfully hand-crafted from lime wood, preserved in bees wax, and hand-painted in transparent oil paint. Hand finished clothing is made from natural materials. The Czech Republic has a very long and proud tradition in the making of and performing with marionettes. Lena's puppets will also be shown at Skipton Town Hall when it opens later this month.
'The last 18 months has been a very strange time for the puppet world.' said Liz Lempen, one of the festival organisers, 'Most performers have had very little work since last March. Therefore, we are extremely happy to be part of the reemergence of performing activity. Hopefully the puppet loving Skipton audiences will help us to welcome them back and will remember the brilliant shared experience of being part of an audience.'
People may be nervous about a crowded performance area, but we hope to reassure them. The festival team and our wonderful volunteers will be on hand to manage and sanitise the seating. The rolling programme of shows is designed that if all the space is taken then the show will be repeated so that people don't miss out.
All shows will be performed in a safe and socially distanced way and even the fleas have been specially trained to dip their toes in soap before each show.
Skipton Puppet Festival programme of events 2021 has been made possible through the support of The BID and public funding from the National Lottery through Arts Council England.
The full 2021 festival brochure can be downloaded here.
Shows at Skipton Town Hall are ticketed and you can buy tickets online www.skiptontonwnhall.co.uk or follow links from www.skiptonpuppetfestival.co.uk
Shows at Canal Basin are socially distanced busking events and donations are welcome.