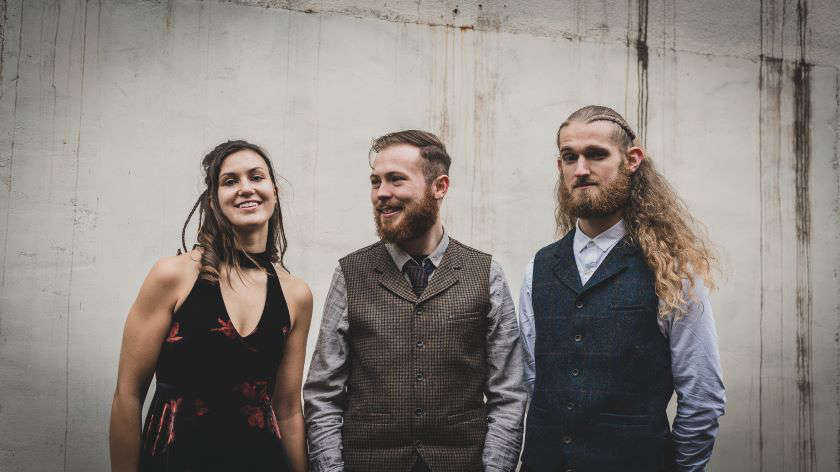 Local group The Tenmours are to stage an exclusive performance of brand new material as part of a show this month which will also feature new up-and-coming local talent.
The three-piece combine acoustic, rock, and world music influences with a raging live show incorporating powerful vocals, violin, guitar, percussion and keyboards.
The Tenmours gig on 27th November will have support from artists who've been taking part in the Craven Music Match programme - which has been funded by Craven District Council and Historic England as part of the Skipton Heritage Action Zone cultural scheme.
Alex from the Tenmours says: "I feel honoured to play this gig in the impressive new Town Hall, and to collaborate with local CMM artists. I began busking on Skipton High St when I was just a kid, and I feel re-energised by all the creativity coming out of Craven – it's great to feel the community spirit undefeated by Covid. We can't wait to get on stage, and have just had some really exciting things happen, like appearing on COP26.tv. It's been too long without a gig, and we'll make sure it's a show to remember."
The Tenmours completed a UK tour in 2019, played Leeds Festival, and are making plans for zero-carbon touring.
Craven Music Match project manager Sarah Smout says: "The aim of CMM is to connect artists from the area and build a supportive, diverse and open network spanning different genres, which can exchange knowledge and skills and be part of the growing live music scene in Skipton and the Craven area. It has been the hardest of times for musicians lately, and it has been a joy to witness new creations take place in my home town, between musicians and venues alike, supporting each other to grow the creative community here. Huge thanks to all – Town Hall, Mess Room, Skipton Castle and Craven Court - who supported us over the summer. The project is continuing next year, and I can't wait to see what it brings".
This round of Craven Music Match brought together six artists including Rose Wheeler, Matt Annable and Jake Carty who will be playing some of their newly created collaborative works together at this special showcase on 27th November.
Catherine Johnson, Arts Development Officer says: "Craven District Council and Skipton Town Hall are delighted to be partners in this new showcasing event, which is the culmination of the first collaboration with Music Local, supporting Craven-based emerging musicians with professional development and opportunities. This initiative, called Craven Music Match, is funded by the High Street Skipton Heritage Action Zone and Craven District Council and supports Craven based musicians of any genre. Anyone interested in being involved in future projects, please email mhickes@cravendc.gov.uk."
'Launchpad' supports the music sector in Yorkshire, providing and signposting to advice, funding and opportunities - for artists, music businesses and music industry professionals.
Sam Nicholls, founder and director of Music Local which is responsible for Launchpad, said: "We're delighted to venture into Craven to deliver the first Launchpad 'New Music Showcase', in collaboration with Skipton Town Hall and Craven Music Match and are excited to see local artists The Tenmours on home turf, plus brand new music created by CMM collaborations. As advocates for celebrating and nurturing local musical talent in Yorkshire, we are looking forward to this being the first of many brilliant new music showcases in Skipton."
The concert will take place on Saturday 27 November at Skipton Town Hall, doors 7pm. Tickets are £8 available from skiptontownhall.co.uk or phone the box office on 01756 792809.
Below you can listen to Jake Carty talking to Stuart Clarkson about the project and the gig on the Rombalds Radio breakfast show from Monday 15th November.