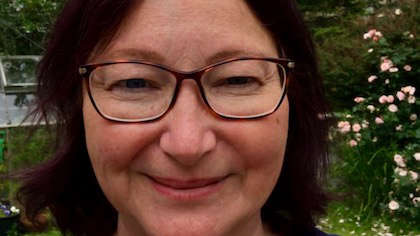 Speech and Language Therapist Angela Penny, who works at Airedale Hospital, has taken on an extra role to encourage people across the region to get more active.
As Physical Activity Clinical Champion for Yorkshire & the Humber, Angela will provide free training on physical activity to other healthcare professionals across the region as part of the national 'Moving Healthcare Professionals' programme, supported by Public Health England and Sport England. It gives Physiotherapists, Radiographers, Dietitians and other Allied Health Professionals, as well as nurses, midwives, doctors and trainees the confidence to have conversations about physical activity with their patients.
It follows the launch of the Better Health campaign by Public Health England (PHE) to encourage adults to eat more healthily and get active. The campaign offers free support and guidance to those wanting to get active and working towards a healthier weight.
You can access the newly updated NHS Weight Loss Plan app and Couch to 5k app, along with exclusive discounted offers from physical activity partners via nhs.uk/BetterHealth.
A recent survey of over 5,000 adults, which reveals the extent that lockdowns have impacted people's physical activity levels and eating habits, showed that 57% of people would welcome more advice and ideas for exercise routines and how to eat more healthily. To mark the launch of the new campaign, PHE is also encouraging healthcare professionals to talk about the benefits of getting active with their patients, to help people feel healthier and reduce their risk of illness. Healthcare professionals can play a leading role in supporting patients who are struggling to keep active, with one in four people stating that they would be more active if they were advised by a GP or nurse.
Angela says: "As healthcare professionals we play a key role in discussing the benefits of getting active with patients where this is possible, as people trust the information we provide.
"The training will benefit people in hospital at risk of deconditioning - where people become less active through illness - as well as people in the community who are at risk of developing or are already are living with long term conditions such as type 2 diabetes, depression, musculo-skeletal issues and cardio-vascular disease.
"It's really effective for healthcare professionals at every stage in a patient's journey to discuss the benefits of physical activity on so many heath conditions. Research shows that to get one smoking patient to give up cigarettes it takes on average 50-120 provisions of advice; but for one inactive patient to increase their activity levels it only takes an average of 12 discussions during a routine healthcare appointment."
Caitlin Thomas, Physical Activity Programme Manager at PHE, comments: "With the summer Olympics just behind us, it offers an opportune moment for healthcare professionals to have conversations with their patients about getting active. Encouraging patients to move more each day and build physical activity into their daily routines, can go a long way to improving their health and wellbeing. It can start with something as simple as encouraging patients to walk to their appointments or use the stairs, rather than the lifts. If you're working as a healthcare professional or manage a team of professionals, you can help make a difference to patients' lives by providing brief advice on physical activity."