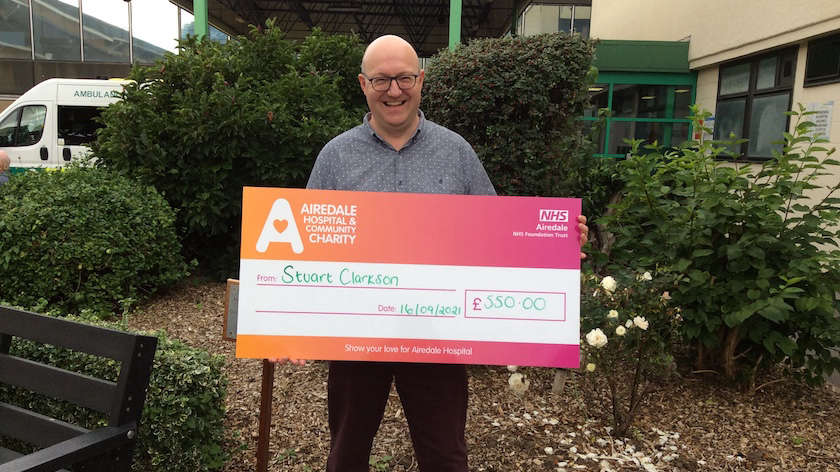 Friends, family and colleagues of our presenter and director Stuart Clarkson have supported a fundraising effort for our local hospital following his recent health scare.
The Silsden-based breakfast show presenter and journalist decided to support the charity after he was taken ill and had to go by ambulance to Airedale Hospital's Emergency Department a few weeks ago.
"I was woken very early in the morning one day last month with incredible pain in my back and chest," he said. "After telling my wife my left arm felt tingly, I don't then remember much as I fell unconscious for a couple of minutes while she was on the phone to the emergency services.
"The whole team that looked after me that day - from the paramedics to the staff in A&E and on the Acute Assessment Unit - were just brilliant. It was a really worrying day for me and my family but I've been thoroughly checked out and all now seems OK."
Stuart set up a fundraiser for the hospital's charity via Facebook to mark his recent birthday as a way of thanking the team who looked after him.
He added: "I'm so grateful for the excellent care I received at Airedale, and I know there are so many things that the charity pays for to help look after patients, staff and visitors and put people at ease when they have to go into hospital. So it made sense to try to raise some money as a thank you to everyone who looked after me so brilliantly. I must also say a huge thanks to those who supported my birthday fundraiser by making a donation to help provide this fantastic sum for Airedale."
Stuart was born at Airedale Hospital and also took his first steps in broadcasting there, as a 16-year old volunteer at hospital station Radio Airedale in the 1990s. He has since gone on to work as a presenter and newsreader at stations including Real Radio, Smooth Radio and BBC Radio 5 Live - before co-founding Rombalds Radio, which covers Skipton, Ilkley and Keighley, last summer.
Airedale Hospital & Community Charity is the official NHS charity of Airedale NHS Foundation Trust. Its aim is to support the hospital trust to enhance patient care and employee wellbeing by raising awareness, proactively generating funds and supporting others to donate and fundraise.
The charity's latest fundraising effort will help pay for the extras that are over and above NHS provision for the new Intensive Care Unit, due to open at Airedale in Spring 2022.
Victoria Pickles, Director of Corporate Affairs at Airedale NHS Foundation Trust and member of the charitable funds committee said: "It is always fantastic to hear about the great care given by our teams, particularly from a former volunteer. We are extremely grateful to Stuart and everyone that donated to his appeal. These funds will help us to enhance patient care and employee wellbeing at Airedale."
Find out more about the Airedale Hospital & Community Charity and how you can support it with fundraising at airedalecharity.org