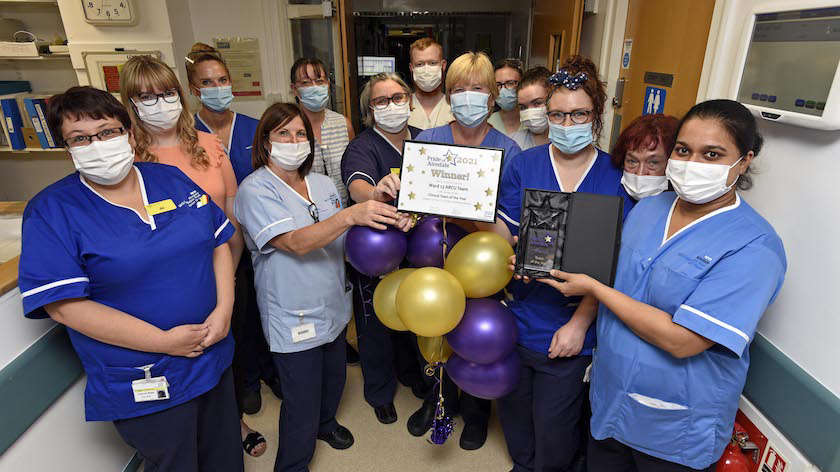 Individuals and teams at Airedale Hospital have been presented with awards to celebrate their outstanding work over the last year.
The hospital's internal awards saw a record-breaking 331 nominations received for colleagues, with 12 winners chosen to receive trophies across 10 different categories.
A large formal event wasn't possible this year, so the awards took on a similar format to 2020 where colleagues were surprised in their workplace. Members of the executive team appeared in people's departments to present them with a trophy, certificate and prizes, and reveal that they were a 2021 Pride of Airedale winner.
This year's winners were:
Colleague of the Year – Gareth Williams, Recruitment Team Leader
Quality Improvement Award – Orthopaedic Ward Based Therapy Team
Clinical Team of the Year – Ward 13 Acute Respiratory Care Unit Team
Corporate Team of the Year – Communications Team
AGH Solutions Team of the Year – Domestic Services
Volunteer of the Year – Janet Wilson, St John's Ambulance
The Airedale Partnership Award – Post-COVID Pathway Team
Trainee of the Year – Jo Ogden, Therapies Trainee Assistant Practitioner
The Quality Award for Outstanding Patient Experience – Airedale Cardiac Rehabilitation Team
Leader of the Year – Kay Green, Airedale Collaborative Care Team Leader
Unsung Hero – Critical Medicines Shortages Team, Pharmacy
Meeting the Needs Award – Sharon Henderson, Physiotherapy Assistant
Winners were selected by a different panel of judges for each category.
Rob Aitchison, Chief Operating Officer of Airedale NHS Foundation Trust says; "We saw a really large number of nominations this year, which is a reflection of how much work everyone has put in over the past 12 months, and how passionately people feel about their colleagues receiving recognition for it. Our judges had a tough job selecting winners from such a high calibre of nominees.
"It was a real privilege to be able to present the awards, and the element of surprise was an added bonus. It was great to see the look of surprise on people's faces as they realised what was happening.
"I'm really proud of all of this year's winners – each and every one of them is very well deserved."
Winners received a certificate and personalised glass trophy, as well as prizes which included high street vouchers, Pride of Airedale branded chocolates from Whitakers Chocolates, Skipton, or food hampers from Keelham Farm Shop, Skipton.
Brendan Brown, Chief Executive of Airedale NHS Foundation Trust, says, "Seeing the nominations flood in for the Pride of Airedale awards is always really humbling, but this year has been especially incredible. I feel honoured to be part of an organisation with so many hardworking and inspirational people, and each and every nominee should be proud to have been nominated this year."
Kay Green, winner of the Leader of the Year category, received two nominations for her dedicated and passionate leadership of one of Airedale's community-based teams. "There are so many inspirational leaders across the Trust so it's a real privilege to receive this award," says Kay. "The past year has been unusual to say the least, and I'm so surprised that I've been chosen as 2021 Leader of the Year."
One of the largest categories – with nearly 70 nominations – was Colleague of the Year. Gareth Williams, who lives in Haworth and currently works in recruitment, was selected by the judges as the winner. His nomination reflected his time working in the ward hostess and housekeeper team, where he played an important role serving food and drink to patients on the wards.
"I was shocked when I found out that I had won colleague of the year, it was great knowing I had a nomination, but to actually win, was a huge shock when there are so many colleagues at Airedale who could've won. I loved my role in the housekeeping team, and keeping patients fed and watered was really important to me and made such a difference to the patients' recovery. During COVID, patients weren't allowed visitors so by taking more time with them, this made a difference to their experience here at Airedale, but also helped my colleagues on the shop floor as it were. I feel really honoured to work at Airedale and to win colleague of the year"
Lucy Hennessy, deputy chief Pharmacist, nominated the Critical Care Medicines Shortages Team for the Unsung Hero category. This pharmacy team worked hard especially at the beginning of the pandemic ensuring that the hospital's sickest patients received the medication they needed.
"Even just writing the team's nomination, and thinking back to those initial days was really quite emotional. There is no more deserving group of individuals, and I'm so proud that they were chosen to win."
"This was an incredibly stressful time for the team but throughout it all they remained calm, professional and compassionate to each other. They didn't just go the extra mile for our patients, they went so far above and beyond the call of duty, you couldn't see the mile marker if you turned around to look!"