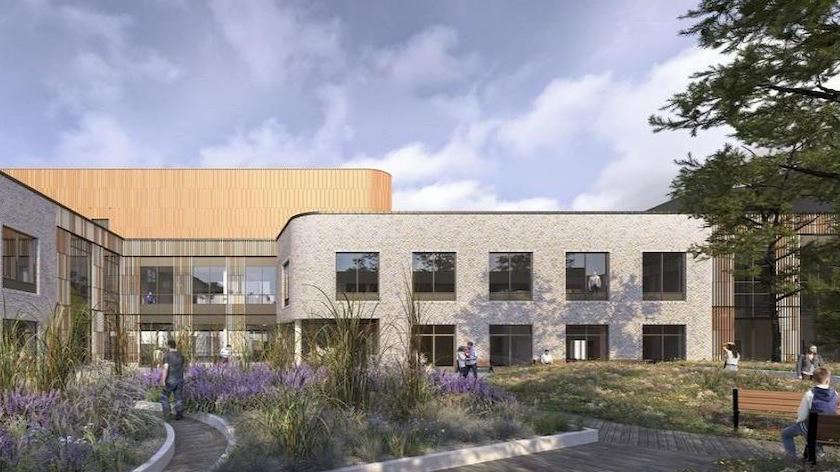 The first artist's impression has been released for a new Community Health and Wellbeing Centre, proposed to be built in Keighley town centre.
Bradford Council's Executive, when it meets on Tuesday, 7 June, is set to accept a petition received at a Full Council meeting in January, urging it to forge ahead with proposals for a health and wellbeing hub to help address health inequalities in the area.
The new facility would include GP services, self-care and prevention, community care, mental health, dental care, a GP training hub and other healthcare services, at an accessible town centre location. The scheme would also bring 200 jobs to the town centre, 50 of them being new posts, helping bring extra footfall to local shops and other businesses.
The site comprises two areas of brownfield land at the corner of North Street and Cavendish Street of 0.9 acres and 0.297 acres, previously occupied by Keighley College, which was demolished in 2017.
Keighley and Ilkley MP Robbie Moore, along with a number of local Conservative councillors, have been campaigning for the building to be put somewhere else in the town centre, and for the land on North Street where the college used to be kept as an open green space.
An integrated Health and Wellbeing Centre was one of seven projects listed for consideration when a bid was made to the Government's Towns Fund for Keighley and Shipley in 2021. As a result the Keighley Towns Fund Board was successful in its application and the town is likely to receive grants of £33.6m for capital projects, part of which can be allocated to this scheme.
A Keighley Health and Wellbeing Centre Project Board has also been set up to prepare a business plan and design to be submitted to the Government by 30 June 2022. Key stakeholders include NHS England, Airedale NHS Foundation Trust, Bradford District Care NHS Foundation Trust, the West Yorkshire Integrated Care Board Wharfedale, Airedale & Craven Alliance, Affinity Care and Bradford Council. West Yorkshire Police is also on the board, as it is proposed that the new town centre police building will sit within the development, but will be independently financed.
The Bradford and Airedale Estate Partnership has been appointed by the Project Board as the lead design consultant.
With current timescales, it is estimated that the new centre could be up and running by late 2025 or early 2026.
Cllr Alex Ross-Shaw, Portfolio Holder for Regeneration, Planning and Transport, said: "This is an exciting and much-needed facility for Keighley, bringing essential health services to the heart of the town, in easy reach of public transport. It also has the potential to be a major step in the regeneration of the town centre. We look forward to seeing the plans progress as we move through the process."
Robbie Moore MP told Rombalds Radio: "The Green Space on North Street is such a unique site that it forms the heart and soul of our town. I have constantly made my view clear that we must protect this site so that it can be utilised as a proper landscaped green space by the people of Keighley.
"It is infuriating that throughout the whole of the Towns Fund process, our local authority have not explored the potential of other town centre sites for the location of a new Health and Wellbeing Hub, the funding of which I helped secure through the Government's Town's Fund Deal.
"This should not be an 'either/or' choice between protecting North Street Green Space and securing a Health and Wellbeing Hub as local Labour Councillors like to portray. Having the Health and Wellbeing Hub imposed on this site is yet another example of Labour-run Bradford Council running roughshod on people in Keighley, by not properly listening to the views of our town.
"There are plenty of other sites in the centre of Keighley which could be considered for a Health and Wellbeing Hub. Therefore, I am continuing to campaign hard to make sure we have both the Health and Wellbeing Hub and the green space in the heart of Keighley, both of which can make such a positive impact on our town."