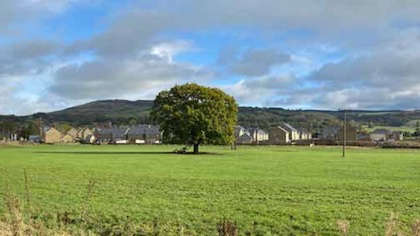 Plans to build 100 homes on a site in Silsden have been submitted to Bradford Council – and have already attracted almost 200 objections.
Countryside Properties has plans to develop a four hectare area of agricultural land off Belton Road – which is next to a recent 223 home development.
The company says the new estate will help with the flagging housing supply in the District – pointing out that while Councils are required to show they have a five year housing supply in place, Bradford Council only has a two year supply of homes.
But objectors say Silsden does not have the infrastructure in place to accommodate another 100 families, and that the development would have a particular impact on the village's traffic.
Countryside's application is only in the outline stage – seeking permission for a development of around 100 homes on this site.
Although it has to include details of how the site will be accessed, detail such as housing types are not included in housing applications at this stage. If approved, the company will have to submit a more detailed application with all these details.
Submitted earlier this month, the application says: "This proposed scheme will provide much needed housing within reach of local amenities, facilities and with good transport links.
"This is turn will encourage greater activity in the area to support the local economy. In addition, the development of this site will improve and enhance the appearance of the area and allow existing services to benefit from a larger neighbourhood population."
It says the site is "unprotected by any planning designations" that would prevent housing from being built on the site.
Referring to the Council's lower that required housing supply, it adds: "The proposal will make an important contribution towards improving the district's significantly low five-year housing supply position and will provide affordable housing."
Despite having only recently having been submitted, there have been 195 objections to the plans sent to the Council from Silsden residents already.
One objector said: "In the past few years large chunks of green field site have been built on. Whilst I am aware that housing is needed in the district, retaining the character of the area as a desirable and pleasant place to live must still be an important consideration in planning decisions."
Another said the long proposed Silsden Bypass should be built before any major new housing development.
And another said: "Traffic congestion is worsening and quality of life deteriorating."
A decision on the application is expected in March.