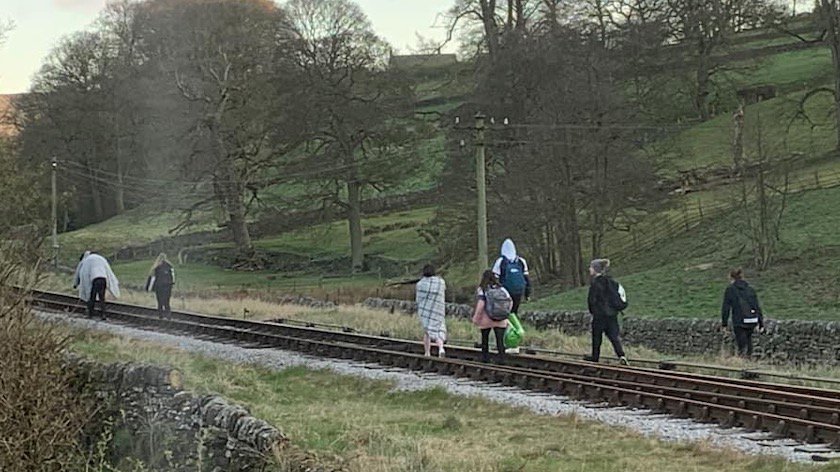 Keighley's MP has called on the authorities to do more to tackle trespassing on railway lines, after the emergence of more pictures of people walking on the tracks of the Keighley and Worth Valley Railway.
Earlier this month a photo released by Robbie Moore MP sparked outrage on social media - and since then Mr Moore has been sent more pictures of others walking on the tracks.
The MP has now requested meetings with both the British Transport Police and Network Rail to discuss the issue.
The Keighley and Worth Valley Railway (KWVR) line, which reopened on 17 April, is used by some as a walkway, oblivious to the dangers caused by walking on a railway line. Although the railway line has been closed to visitors prior to 17 April, the line was still used by KWVR trains on a frequent basis.
Robbie Moore said: "It is frightening to see that people are continuing to walk on active railway lines despite the stark warnings which have already been given. Walking on railway lines is dangerous. Trains can't stop quickly, neither can they swerve out of the way. There were 17 fatalities involved with trespassing on railway lines last year – 17 fatalities which could have been avoided.
"I am due to meet with both the British Transport Police and Network Rail to see what more can be done to deter people from trespassing on railway lines."
Commenting on the original incident on 6 April, Matt Stroh, Chairman of the Keighley and Worth Valley Railway said: "Having trespassers on the railway line is incredibly scary. The fact that there is a child's buggy makes it particularly sad and scary. It can be a fairly frequent occurrence. I've had people message when they spotted people wandering down the tracks.
"Some people just see it as a five-mile long footpath. They just don't understand risks. People have been aggressive when we've tried to move them on, so they're putting themselves at risk and our volunteers at risk (with their behaviour). We had to close in early January because of lockdown rules, but we've had to run maintenance trains for our 150-year-old railway."