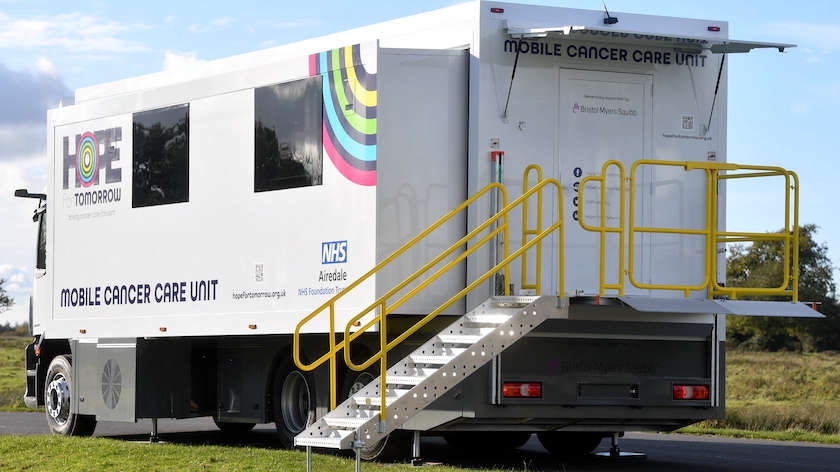 A second state-of-the-art fully mobile medical cancer care unit is hitting the road across the Aire and Wharfe valleys, aimed at revolutionising the way care is delivered.
The new vehicle, staffed by specialist oncology nursing teams and pharmacists from Airedale NHS Foundation Trust, will visit places including Skipton and Keighley to provide accessible clinics as well as treatments such as chemotherapy in the heart of local communities.
The Next Generation unit, provided by the charity Hope for Tomorrow, includes hydraulic sides - which move out to provide two clinic rooms, making the unit even bigger.
Moving cancer care closer to patients has proven health and wellbeing benefits as the reduced travel and waiting times can lower stress and anxiety levels for patients. Staff also appreciate the different working environment, away from the hospital setting. The unit will be used for clinics that are already in place but will now have them in the community, so patients can incorporate their appointments into their lives rather than fit their life around hospital appointments.
The trust received its first unit from Hope for Tomorrow in 2018 and had the use of an additional unit during the pandemic so vulnerable patients didn't always need to come into hospital and they have both been a great success.
Pat Dyminksi, lead clinical nurse specialist for haematology, oncology and chemotherapy at Airedale NHS Foundation Trust said: "We received our very first mobile unit three years ago today and it has had a huge impact on patients. For me, the most important thing when setting these up was that patients would feel as safe in the mobile units as they do in hospital.
"It was a vision to begin with, but it has been extremely successful and now three years on we are here using the units to their maximum potential. If you've got the clinic space, the needs of patients and staff availability then the sky is the limit with what we can expand this to."
Brendan Brown, Chief Executive at Airedale NHS Foundation Trust added: "We are immensely proud to launch this new unit which takes cancer care and treatment into the very heart of our communities. We would like to thank Hope for Tomorrow for their fantastic support in making this a reality for our patients and staff. It has already had such an impact on our patients and this additional unit will progress our vision of care for the future."
This unit is named 'Christine', in honour of the Hope for Tomorrow charity's founder who died of cancer in 2018.
Tina Seymour, Chief Executive of the Hope for Tomorrow charity said: "Our partnership with Airedale NHS Foundation Trust has gone from strength to strength over the past three years and we are delighted that they are to be custodians of our next generation unit. This unit is a world-first. It has been designed to extend the possibilities for mobile cancer care and remove some of the barriers that patients can face when accessing cancer care, whether they are cultural, socioeconomic or geographical. We can't wait to see 'Christine' put to good use by the Trust."