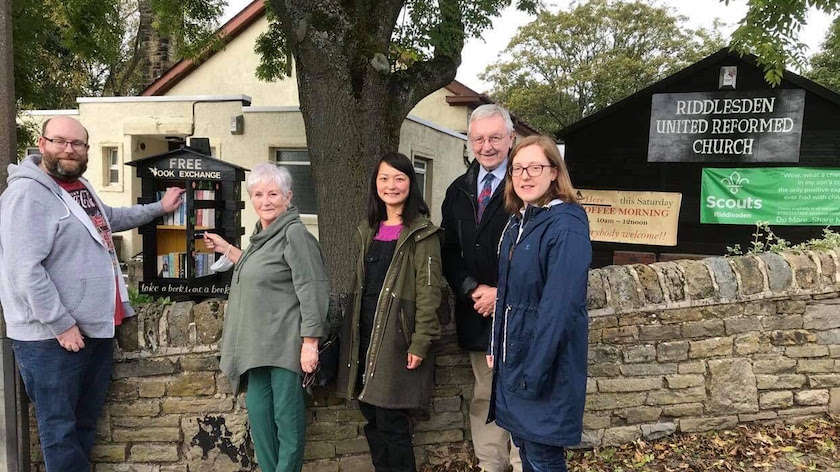 Two 'book exchange' boxes have been put in place in Keighley to allow people to leave books for others, or take one themselves.
The boxes, outside Riddlesden United Reformed Church and at Cliffe Castle, are part of a network that will be cared for and kept well stocked by "book angel" volunteers who will ensure children and adults across Keighley and surrounding areas are able to borrow, swap or donate a book as they pass by.
Both projects were designed by Riddlesden-based illustrator and printmaker Siya Liu and built by The Lion's Den Shed - a men's support group based at Cliffe Castle which provides shared activities for men and women to take part in to improve health and wellbeing.
The Cliffe Castle exchange, situated in the glasshouses in the foyer next to the café, was opened in a ribbon-cutting ceremony last week while the Riddlesden box, hosted by Riddlesden United Reformed Church on Scott Lane, opened before Christmas.
Siya said: "I approached Keighley Big Local with my idea, and I am so pleased to bring the Little Book Exchange to my own community, helping to promote reading, art and build a sense of community. Many of my illustrations were inspired by my personal experiences and adventures that I have encountered whilst out in the British Countryside when walking or riding my bike."
The Cliffe Castle box was funded by Bradford Council, while the Riddlesden project was financed by Keighley East district councillors Cllr Caroline Firth, Cllr Doreen Lee and Cllr Malcolm Slater along with Keighley Big Local.
Cllr Firth said: "We were so pleased as district councillors to support the Riddlesden Little Book Exchange, as it brings people together and is a lovely project that bridges arts, culture, hobbies and community life. Several residents and the church have been involved in putting the project together and will support it by keeping the book stock replenished in the future, which shows great community spirit. Thanks to everyone involved."
Cllr Sarah Ferriby, Portfolio Holder for Healthy People and Places, said: "Bradford Council is pleased to support these two beautifully designed book exchanges, which support people to read and foster a sense of community. We are now hooked into a scheme that appears around the world across 80 countries, from Iceland to as far as Pakistan. Everyone is welcome to come along and borrow, swap or donate a book and we hope the exchanges will be well used. This is another positive project as the district bids to become the UK's Capital of Culture in 2025."