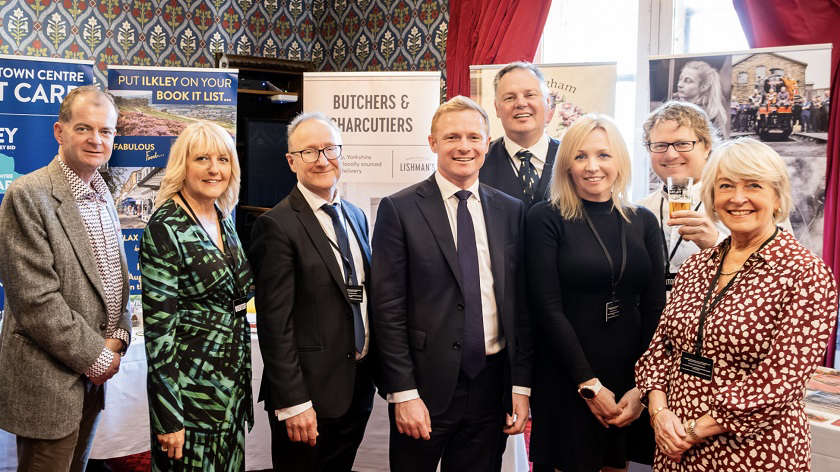 Local businesses from across Keighley and Ilkley have taken the national spotlight this month at a showcase event hosted in UK Parliament.
Local MP Robbie Moore's "Keighley and Ilkley Showcase" held in the iconic Westminster Hall gave Members of Parliament, government ministers, and staff from constituencies across the UK a taste of local talent, showcasing the best of Keighley and Ilkley.
Highlights included locally produced craft beers from Ilkley Brewery, Sloe gin tastings from Addingham Fruit Liqueurs, Charcuterie from Lishman's of Ilkley, and a snapshot of local life and heritage from the Keighley and Worth Valley Railway and the Ilkley Business improvement District (BID), represented by Ian White, Helen Rhodes, and Jos Mountcastle.
The businesses were able to hand out samples, leaflets and much more to the visitors, who took time away from their work in Parliament to find out more about what Keighley and Ilkley has to offer.
The event even received recognition from Prime Minister Rishi Sunak during Prime Minister's Questions, with the Prime Minister advertising the event to fellow MP's during a packed session in the House of Commons.
It follows a similar event held by Mr Moore last year celebrating Yorkshire Day in Keighley, which featured stalls from Timothy Taylor's Brewery, Keighley and Worth Valley Railway, Grandma Wilds, The Brontë Parsonage Museum, Wydean Weaving, And Chocolate of Haworth and Byworth Boilers.
Robbie praised the "incredible local talent" on show, saying: "As your MP, I am determined to shout from the rooftops about the incredible local talent across our area. And what better way to do it than to showcase some of the brilliant local businesses we have across Keighley and Ilkley.
"It was an absolute privilege to welcome these businesses down to Parliament and I'd like to thank them for showing why, despite the negativity we often see about our area, we have so, so much to be proud of! We were joined by MPs and Ministers from right across the country and it was great to introduce them to local businesses so they could tell them all about our town.
"We have a huge range of awesome local businesses doing great things - and I am extremely proud of them all. I will continue to do all I can to put our mighty part of West Yorkshire on the map."
Dr Matthew Stroh, Chairman of Keighley & Worth Valley Railway said: "It was a great privilege to be in the company of such fabulous business from Keighley & Ilkley, raising awareness of how much the area has to offer, particularly in the food and beverage sector. We have just run our very popular Beer & Music weekend, which showcases the rich diversity of breweries in the area. I know that we succeeded in supporting Robbie's quest to showcase to the nation's MPs and staff what the area a bit to the north of the M25 has to offer, and I've no doubt that we prompted some of them to book a trip to Yorkshire in the near future."
Fiona Mann, Business Owner of Addingham Fruit Liqueurs said: "I was thrilled and very honoured to be invited to showcase my fruit gin liqueurs at Westminster and delighted that my products were so well received. I would like to thank Robbie Moore and his team for all their help and support"
Luke Raven, Director of the Ilkley Brewery said: "The event at the Houses of Parliament was a great success, and it was fantastic to be able to share our story with so many people at Westminster. There was great enthusiasm from all of the visitors to hear about our story and to sample our best-selling pale ale, Mary Jane, our Yorkshire lager, Slake, and Maiden Mary, our alcohol-free pale ale. It was a great opportunity not only to promote our business, and to tell people about Ilkley Brewery's successes in export and national distribution, but to also discuss the challenges facing our industry as a whole."
Lishman's of Ilkley said: "It was a great honour to be one of a local group of businesses allowed to showcase our products to the people of Westminster, reminding them that not everything has to come from the South. The companies of West Yorkshire have breweries, bakers and charcuterie makers which challenge in the highest league."
Helen Rhodes Manager of Ilkley BID said: "Participating in this event offered a fantastic opportunity to engage with a diverse group of individuals from across the nation. We discussed the positive impact of Business Improvement Districts and put a spotlight on Ilkley as an outstanding location for commerce."