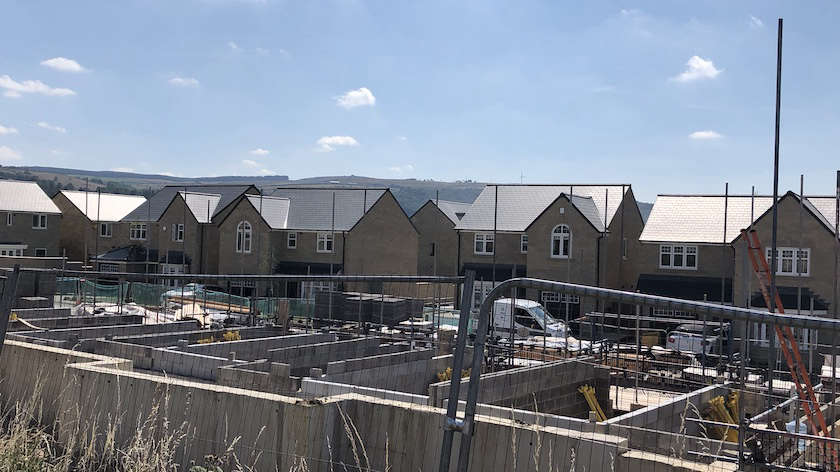 Keighley and Ilkley MP Robbie Moore has used a parliamentary debate to call for a house developer to address ongoing issues for residents of a new estate in Silsden.
Mr Moore says more than 30 property owners on the 50-house Harron Homes development at High Banks in the town have contacted him to raise concerns about the standard of their home and that the road surface is unfinished.
The development was completed in 2020, but residents have been chasing the company to address outstanding issues. Other complaints include blocked drains, sewage removal from the site, garden areas not being landscaped properly and cracked walls in properties.
The MP and local ward councillor Rebecca Whitaker have met many residents from the development and are involved in putting pressure on the housing developer to sort these issues out.
Having visited the site several times, Robbie Moore met with Tony Lee, the Managing Director of Harron Homes back in October last year. The MP says that Mr Lee promised to provide regular updates on progress to improve the site but that this hasn't happened.
Speaking in the House of Commons, Mr Moore called on the housing developer to urgently do the right thing and sort out the road, the sewage connection and remaining snagging issues. He told fellow MPs that residents of High Banks had been deeply let down by the housing developer and he called for a new auditing process to put pressure on developers to complete homes to the standards expected in a timely manner, or face financial penalties being imposed.
Robbie Moore also mentioned the issue on the latest Rombalds Radio Q&A - tap here to listen on the Rombalds Radio Local podcast.
In the same debate, Parliament heard from Halifax MP Holly Lynch, who mentioned a similar housing development in her constituency where residents had been badly let down by the same developer Harron Homes. MPs Mark Eastwood and Jason McCartney who represent other West Yorkshire constituencies have also raised concerns in Parliament about Harron Homes developments.
After the debate, Housing Minister Eddie Hughes MP agreed to meet with Mr Moore to discuss these matters further.
Robbie Moore MP said: "Buying a house is the most important purchase someone will make; it should come with a sense of pride, not betrayal. I have chased Harron Homes to sort out the long list of outstanding issues on multiple occasions and it is a disgrace that the developer continues to show complete contempt towards the many residents at High Banks in Silsden. It is disgraceful the site is not up to the standards they promised, and I will continue to do all I can to make sure they put this right. Housing developers should not be allowed to get away with running rough shod over people who purchase their homes in good faith. After raising this in Parliament, I will now meet with the Housing Minister to explore further measures which can be adopted to put more pressure on Harron Homes to sort matters out."
Councillor Rebecca Whitaker said: "The residents on High Banks have been let down very badly by Harron Homes. I have visited and been in communication with many residents from this new estate and am appalled when I hear of their outstanding issues. Residents have paid good money for their homes and now feel abandoned by the developer. This clearly should not be happening.
"I have raised this matter at all levels at Bradford Council. Other than an officer from Building Regulation who offered his help, I have received very little communication from anybody else. Those in charge at Bradford Council responsible for planning should take proactive action to ensure that the developers adhere to all conditions of planning and get these outstanding issues resolved as a matter of urgency. Residents have been extremely patient and they demand and deserve better."
Tony Lee, managing director of Harron Homes Yorkshire, said: "Since meeting with MP Robbie Moore regarding The Banks development in Silsden, we have continued to actively deal with customers' snags. These are not individually extensive, although we accept there are more customers with snags than we would like at this stage. Our customer care team is in contact with customers to reduce the outstanding items as soon as we possibly can.
"The condition of the roads is the primary source of complaints that we had received before meeting up with Mr Moore, however by the end of October most remedial work to the kerbs and pavements had been completed. Harron Homes Yorkshire has surfaced several sites over the last 12 months to the satisfaction of the local highway authorities during challenging times and we are fully aware of the need to complete our sites in the West Yorkshire area to that same standard. There are however some remedial items at The Banks which are to be corrected before we can do that.
"We are conscious of the inevitable disruption to our customers when works start, so we have engaged with expert adoptions co-ordinators to ensure anything unforeseen is limited and has mitigation already planned.
"We have been communicating with customers regarding the roads and sewers within the development, and as soon as we are able to commence works we will be informing residents of the actions to be taken. We apologise to all our customers for the timeframes taken to deal with some of these matters; we have actively sought solutions which have not always been easy to resolve in order to move these particular developments forward. I am confident that all of these developments will have completed roads, sewers and open spaces in the first half of 2022."