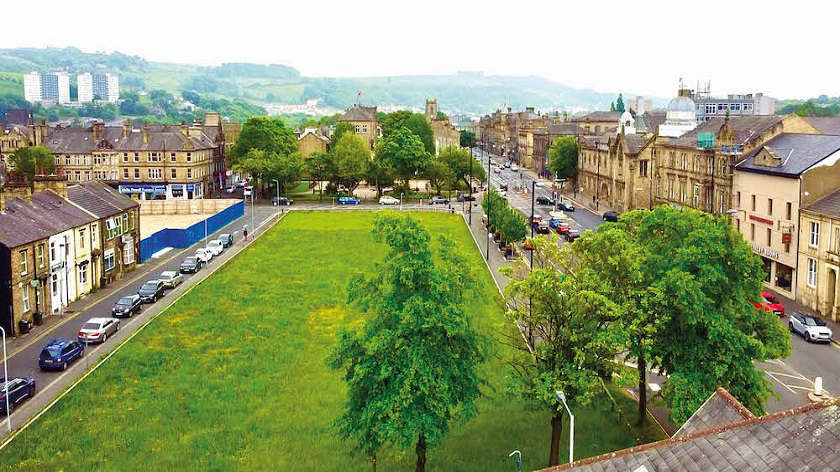 'Keep it green' campaign launched in Keighley
Keighley's MP, Robbie Moore and local campaigners have launched a major grassroots campaign to protect the green space on North Street in the centre of Keighley.
The old Keighley College site is one of the few green open spaces in the town, but Bradford Council have said the green space is only 'temporary' and want to build on it, with a new health and wellbeing hub being planned for the site.
Mr Moore has previously spoken of his delight of having secured funding for the facility from the government, but the decision about where to build the hub will be made by Bradford Council. Keighley has many brownfield sites in the centre of the town and Mr Moore says he would like to see other sites considered. The local MP, councillors and campaigners continue to urge Bradford Council to choose one of Keighley's other brownfield sites for the hub.
He's now launched a major grassroots campaign to galvanise public support behind protecting the green space on North Street. This week, campaign packs have been delivered to businesses and residents across the town, which include posters for display in shop windows, leaflets, and information on the action businesses can take to help 'keep it green'. Any local business, or resident who has not received a campaign pack can order one online by visiting robbiemoore.org.uk/KeepItGreen.
An interactive window display has also taken over the MP's office to promote the campaign, with residents able to use their smartphone camera to scan the giant QR code to find out more and support it.
In July, Keighley's six Labour councillors issued a statement backing plans to build on the green space, despite a petition being presented to Bradford Council signed by thousands of local residents calling on the plans to be scrapped.
Bradford Council's cabinet will make a decision on 2nd November as to whether they will continue to press ahead with plans to build on North Street's green space.
Keighley MP Robbie Moore said "The council's argument that there are no other sites available for our new Health and Wellbeing hub is complete nonsense. We all know there are many brownfield sites that can be used within close proximity of the town centre, and that's exactly why I helped secure a £15m Development Investment Fund from government as part of our Towns Fund Deal. It is my view that the green space on North Street should be retained as green open space, landscaped for us all to be able to utilise and enjoy.
"This should not be an either or choice, we can have both – a green open space on North Street and a new Health and Wellbeing Hub. I urge all residents and businesses to get involved, sign the petition and back our Keep It Green Campaign, so we can send a loud and clear message to Bradford Council l that we want to protect North Street's Green Space for future generations to enjoy."
Local business owner, Laura Kelly said: "This isn't about politics, it's about doing the right thing! A Health and Wellness hub on that site is wrong for so many reasons, not least the massive increase in traffic and the consequent rise in air pollution. We in The Green Space Campaign Group are happy to work with Robbie and anyone else who can see that the people of Keighley are right to insist their voices are heard and we'll do whatever is necessary to achieve that outcome."
Keighley Central councillor Mohammed Nazam added: "I am delighted that Robbie Moore MP has helped secure us a new health and wellbeing hub in the town. However, this is completely the wrong site. There are dozens of other locations in Keighley that are a much better option. The council must now reconsider their decision to destroy this precious green space and find an alternative location."