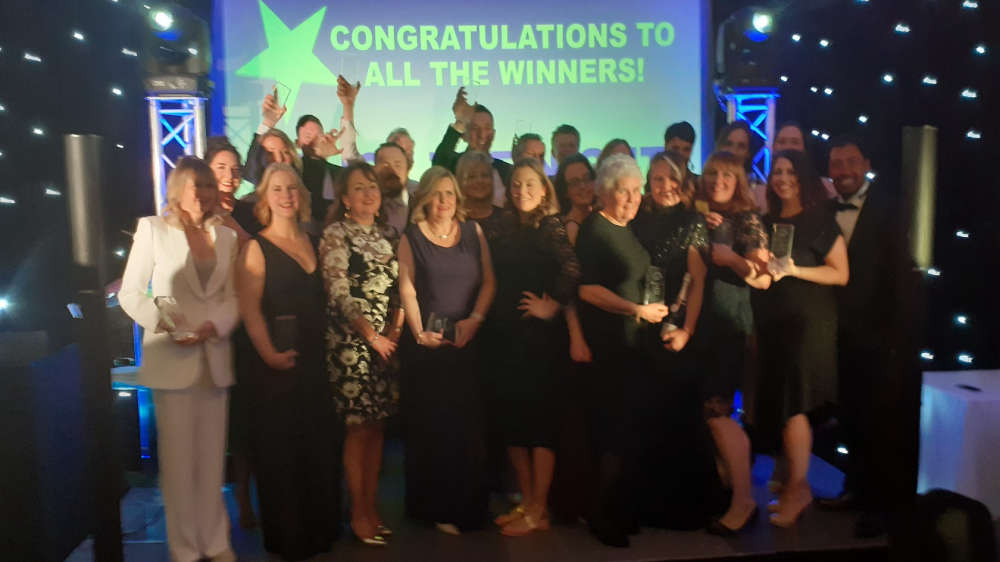 Celebrating businesses within LS29, the winners of the Ilkley Business Awards 2022 were announced at the awards ceremony which took place at The Craiglands Hotel, Ilkley on Friday 18 March 2022.
The 240 attendees enjoyed an evening of celebration with a total of 14 Awards presented, which included two Special Recognition Awards requested by this year's independent judges.
Ian White, Chairman of this year's headline sponsor Ilkley BID told us "Ilkley BID were delighted to support this excellent event again this year and it was fabulous to see so many local businesses recognised for their achievements. It's a true testament to the tenacity of businesses in the LS29 area that after the turmoil caused by the Covid-19 pandemic, there are so many real success stories."
Speaking on behalf of the Awards committee Kelly Edmundson, solicitor with LCF Law said "We would like to take this opportunity to thank all of this year's sponsors who have made the 2022 awards possible, with special thanks to our headline sponsor, Ilkley BID.
"Thank you to: Ilkley BID, Ilkley Business Forum, Ilkley Town Council, Tennant & Darragh Jewellery Workshop, RDC Solicitors, LCF Law, Clip 'n Climb Ilkley, Stowe Family Law, Galo's Kitchen, Harvest Associates, Ilkley Gazette and LOCALiQ, BNI Ilkley, Home Instead Ilkley, The Kindr Company, Ilkley Shoe Company, The Craiglands Hotel, Elite Accountancy Services Limited, The Valley Clinic, LFW Podiatry, Bini Brew, Ideal Extraction, JCM Website Design, Olicana Stationery, Piper House Virtual Assistants and Whitetop Productions."
Best Boss of the Year sponsored by Clip 'n Climb Ilkley
Winner:
Janice Brooke, Ilkley Agency
Runners up:
Claire Wareham, Claire Wareham Hair
Zara Gonzalez, Galo's Kitchen
Business to Business Award sponsored by BNI, Ilkley
Winner:
Pronto
Runners up:
Commercial Finance Partnership Limited
Elite Accountancy
Covid – The Extra Mile sponsored by Stowe Family Law
Winner:
Martinez Wines
Runners up:
Home Instead Ilkley
Ilkley & District Good Neighbours
Moin Moin Ltd
Established Business of The Year sponsored by Home Instead, Ilkley
Winner:
Ashlands Veterinary Centre
Runners up:
Dillons Premium Fitness
The Ilkley Shoe Company
Food, Drink & Leisure Business of The Year sponsored by Ideal Extraction Ltd
Winner:
Galo's Kitchen
Runners up:
Broadley's Bistro & Wine Bar
Sachi's Restaurant
The Little Tea House
Hair, Beauty & Wellness Business of The Year sponsored by Galo's Kitchen
Winner:
William David Hair Ltd
Runners up:
LFW Podiatry
The Valley Clinic Ltd
Independent Retailer of The Year sponsored by RDC Solicitors
Winner:
The Ilkley Shoe Company
Runners up:
Martinez Wines
Tennant & Darragh Jewellery Workshop
Waste Not
New Business of The Year sponsored by Tennant & Darragh Jewellery Workshop
Winner:
New Brook Street Deli
Runners up:
Arlo
Bathe of Wharfedale Ltd
Bini Brew Co Ltd
Outstanding Tradesperson of The Year sponsored by Ilkley Town Council
Winner:
Complete Digital Installations
Runners up:
Mike Sant Painter and Decorator
SK Plumbing of Ilkley
Professional Services Business of the Year sponsored by Ilkley Gazette & LOCALiQ
Winner:
LCF Law
Runners up:
Brooke Financial
Leap Into Languages
Rising Star Award sponsored by LCF Law
Winner:
Helen Holmes, LFW Podiatry
Runners up:
Ella Hutcinson, Kyle Anderson and Ryan Aspden, Access Hospitality
Felicity Swale, Brooke Financial and Yorkshire Building Society
Social Conscience Award sponsored by Harvest Associates
Winner:
Soul & Co
Runners up:
Milestone Design Ltd
The Bobbin
Special Recondition Awards were given by the IBA committee to:
The Bobbin
Ilkley & District Good Neighbours
Anyone who is interested in becoming a sponsor for next year's awards, or would like to be involved in organising the event are invited to contact the committee: hello@ilkleybusinessawards.co.uk