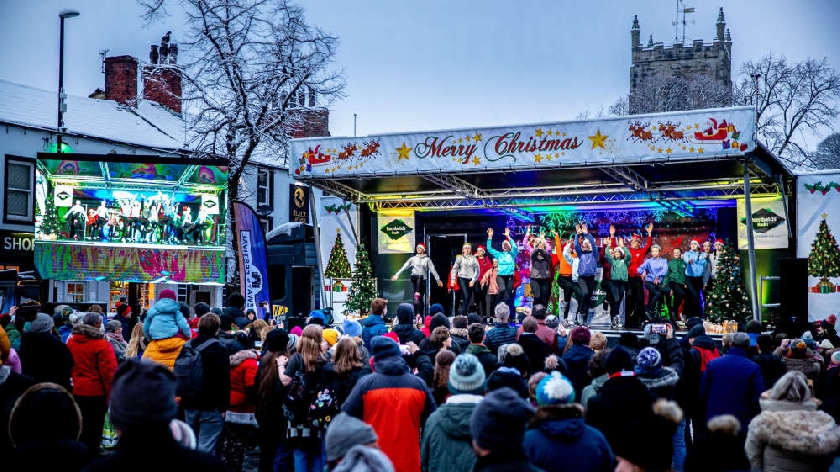 Skipton Town Council has begun a search to find a local hero to turn on the town's Christmas lights at the end of November this year.
Embsay's Luke Mortimer was the special guest at the ceremony last year, and the town council says it wants to give another local hero the opportunity to flick the switch this year.
Luke stole the hearts of the town as he took on the daunting challenge of turning the lights on in front of the crowd as him and his family continue to fundraise to buy prosthetics for him as he grows so he can live as independently as possible after contracting a life-threatening bacterial meningitis three years ago which resulted in him having to have part of all of his limbs amputated.
Skipton Town Council aims to recognise and say thank you to the people who go above and beyond to serve the community and people of Skipton. These unsung heroes who often go unnoticed.
Do you know a person or group that has helped our community? Someone, or a group, you or our community would be lost without. If so, please nominate your local hero. They could be a person who goes above and beyond for others in our community, often going unnoticed. A volunteer hero who always puts their hand up to be involved when and where help is needed the most. A front-line worker, who despite fear and challenges, always went to extraordinary lengths to keep our community going. A person who dedicates vast amounts of their own time and effort to take care of the most vulnerable people in our community. Or an organisation that shows the real caring spirit of the Skipton Community. Providing support without hesitation or question.
To get an application form, email eventsadmin@skiptontowncouncil.gov.uk or tap here to download a copy to print at home.
This year Skipton Christmas Lights Switch On will take place on Sunday 27th November. The event comprises of the Great Santa Fun Run to kick start the day which is organised by the Rotary Club of Skipton Craven, seeing 2,000 Santas gather and take part in the annual 5km run.
There will be a trading market with 50+ festive stalls, food and drink including mulled wine, boozy hot chocolate, churros, German sausage and more.
This year there will be a Willow Lantern Procession with Santa at 4.30pm followed by the big switch on event at 5pm at the top of Skipton High Street. The stage will have local music and dance entertainers on from 12noon hosted by the team from Rombalds Radio.
Skipton Town Council Events Manager Hannah Corrigan said: "We would really like to push the boat out this year and showcase the best of Skipton. It would be wonderful to say thank you to an unsung hero and recognise a person who goes above and beyond to serve the community. Not only that but to support local artists, musicians and dancers highlighting the vast talent that we have in the area."
Rombalds Radio breakfast show presenter Stuart Clarkson added: "We're delighted to have been invited back to host the Skipton Christmas Lights Switch-On event and Christmas markets again this year. Last year it turned festive really quickly as the snow began to fall - so wrap up warm and join us for an afternoon of great music and entertainment ahead of the big switch-on.
"We're pleased to be working with Skipton Town Council to showcase some local talent, and look forward to welcoming another local hero on to the stage to light up Skipton this Christmas."