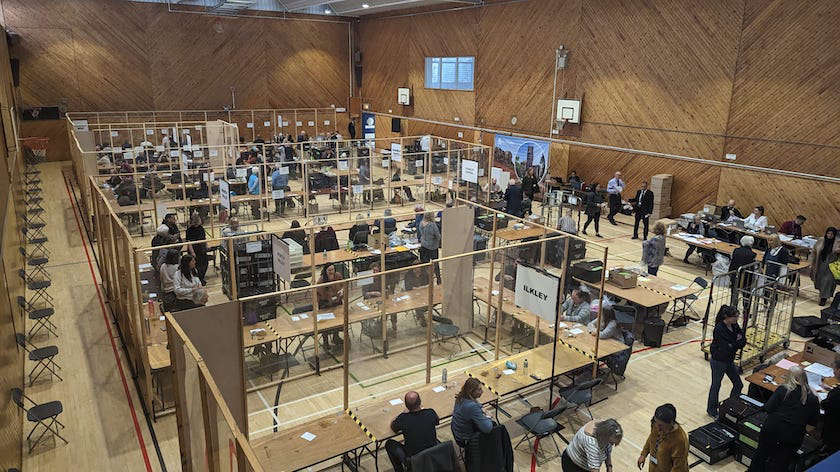 Local elections for Bradford Council were held on Thursday 4th May 2023, as well votes to select some town and parish councillors.
In our area, three of the seven seats on Bradford Council changed hands.
The Green Party won in Craven (Silsden, Steeton, Eastburn & Addingham) - a seat previously held by the Conservatives, with candidate Janet Russell polling 49% of the vote and receiving over a thousand votes more than Tory candidate Eddie Irving. It means the Craven ward now has two Green councillors following the election of Caroline Whitaker a year ago.
Labour gained the seats in Keighley Central and in Wharfedale, which includes Burley and Menston.
In Keighley West, a re-count was needed - with just 60 votes between Labour Councillor Julie Lintern and the Conservatives' challenger Laura Kelly.
Turnout across the district was 32.8%, but was higher in some wards. In the Craven ward it was 40.74%, in Ilkley it was 53.36%. Worth Valley had a turnout of 37.47%, Keighley Central 51.23%, Keighley East 31.8% and Keighley West 27.21%.
The make-up of Bradford Council following the elections is now: Labour 56, Conservative 16, Green Party 8, Liberal Democrats 5, Bradford South Independents 2, Independent 2, Ilkley Independent 1.
Elections to Ilkley Town Council and Keighley Town Council also took place - scroll down for full details of the results.
Elections to Bradford Council, 4th May 2023
Craven - Green Party GAIN
| Election Candidate | Party | Votes | % | Outcome |
| --- | --- | --- | --- | --- |
| Janet Ann Russell | Green Party | 2831 | 49% | Elected |
| Eddie Irving | Conservative | 1838 | 32% | Not elected |
| Andrew Mark James Knight | Labour | 700 | 12% | Not elected |
| Peter John Kaye | The Yorkshire Party | 280 | 5% | Not elected |
| Paul Michael Mann | Liberal Democrats | 73 | 1% | Not elected |
Ilkley - Conservative HOLD
| Election Candidate | Party | Votes | % | Outcome |
| --- | --- | --- | --- | --- |
| David Nunns | Conservative | 2655 | 42% | Elected |
| Ros Brown | Green Party | 2495 | 39% | Not elected |
| Michael Andrew Baldwin | Labour | 977 | 15% | Not elected |
| Caroline Rosemary Jones | Liberal Democrats | 214 | 3% | Not elected |
Keighley Central - Labour GAIN
| Election Candidate | Party | Votes | % | Outcome |
| --- | --- | --- | --- | --- |
| Amjad Ali Zaman | Labour | 3125 | 49% | Elected |
| Javaid Akhtar | Conservative | 2284 | 36% | Not elected |
| Zafar Ali | | 580 | 9% | Not elected |
| Alyson Claire Telfer | Green Party | 178 | 3% | Not elected |
| Leo Alexander Robinson | | 85 | 1% | Not elected |
| Nicholas James Allon | Liberal Democrats | 84 | 1% | Not elected |
Keighley East - Labour HOLD
| Election Candidate | Party | Votes | % | Outcome |
| --- | --- | --- | --- | --- |
| Lisa Ann Robinson | Labour | 2015 | 51% | Elected |
| Martin Jon Crangle | Conservative | 1425 | 36% | Not elected |
| Duncan Nigel Stuart Hunnisett | Green Party | 270 | 7% | Not elected |
| John Briggs | Liberal Democrats | 186 | 5% | Not elected |
| Alexander Richard Vann | Social Democratic Party | 37 | 1% | Not elected |
Keighley West - Labour HOLD
| Election Candidate | Party | Votes | % | Outcome |
| --- | --- | --- | --- | --- |
| Julie Lintern | Labour | 1507 | 47% | Elected |
| Laura Ann Kelly | Conservative | 1447 | 45% | Not elected |
| Steven James Spoerry | Liberal Democrats | 127 | 4% | Not elected |
| James Jonathan Whitaker | Green Party | 102 | 3% | Not elected |
Worth Valley - CONSERVATIVE HOLD
| Election Candidate | Party | Votes | % | Outcome |
| --- | --- | --- | --- | --- |
| Rebecca Poulsen | Conservative | 2412 | 59% | Elected |
| Ash Joomun-Whitehead | Labour | 1290 | 32% | Not elected |
| Hawarun Nesa Hussain | Green Party | 187 | 5% | Not elected |
| Kay Kirkham | Liberal Democrats | 182 | 4% | Not elected |
Wharfedale - Labour GAIN
| Election Candidate | Party | Votes | % | Outcome |
| --- | --- | --- | --- | --- |
| Christopher Eric Steele | Labour | 1718 | 39% | Elected |
| Peter Sidney Cochrane | Conservative | 1692 | 39% | Not elected |
| Chris Turner | Green Party | 534 | 12% | Not elected |
| Jamie Luke Needle | Liberal Democrats | 420 | 10% | Not elected |
Elections to Ilkley Town Council, 4th May 2023
Ilkley (Ben Rhydding) - results

| Election Candidate | Party | Votes | % | Outcome |
| --- | --- | --- | --- | --- |
| Linda Clair Brown | Labour | 974 | 22% | Elected |
| Damian John Kearns | | 880 | 20% | Elected |
| Rosemary Jane Gibson | Labour | 879 | 20% | Elected |
| Sean Michael Spence | Conservative | 854 | 20% | Elected |
| Alan John Scott Strachan | Conservative | 772 | 18% | Not elected |
Ilkley (North) - results

| Election Candidate | Party | Votes | % | Outcome |
| --- | --- | --- | --- | --- |
| David John Hesmondhalgh | Green Party | 528 | 20% | Elected |
| Harry Alexander Nickson Burns | Conservative | 461 | 18% | Elected |
| David Nunns | Conservative | 448 | 17% | Elected |
| Mary Joanne Sugden | Conservative | 439 | 17% | Not elected |
| Nick Ryle | Labour | 404 | 15% | Not elected |
| Will McBain | | 334 | 13% | Not elected |
Ilkley (South) - results

| Election Candidate | Party | Votes | % | Outcome |
| --- | --- | --- | --- | --- |
| Amanda Grace Simmonds | Labour | 623 | 23% | Elected |
| Karl John Richard Milner | Labour | 612 | 23% | Elected |
| Pauline Heather Allon | Liberal Democrats | 601 | 22% | Elected |
| Kate Butler | Conservative | 449 | 17% | Not elected |
| Kyle Jameson Green | Conservative | 407 | 15% | Not elected |
Ilkley (West) - results

| Election Candidate | Party | Votes | % | Outcome |
| --- | --- | --- | --- | --- |
| Stephen Mark Butler | Conservative | 907 | 15% | Elected |
| Andrew John Patrick Loy | Conservative | 891 | 14% | Elected |
| Catherine Mary Cheater | Conservative | 890 | 14% | Elected |
| Brennan David Cowell | Conservative | 788 | 13% | Elected |
| Kath Steward | | 720 | 12% | Not elected |
| Fred Brown | Labour | 692 | 11% | Not elected |
| Tom Beesley | | 675 | 11% | Not elected |
| Ian David Smith | | 671 | 11% | Not elected |
Elections to Keighley Town Council, 4th May 2023
Keighley (Bracken Bank and Ingrow) - results

| Election Candidate | Party | Votes | % | Outcome |
| --- | --- | --- | --- | --- |
| Christopher John Herd | | 507 | 37% | Elected |
| Allan Brian Clark | | 359 | 26% | Elected |
| Paul Michael Cook | | 280 | 20% | Elected |
| Dominic James Atlas | | 237 | 17% | Not elected |
Keighley (Guardhouse) - results

| Election Candidate | Party | Votes | % | Outcome |
| --- | --- | --- | --- | --- |
| Mohammad Khalil | | 138 | 50% | Elected |
| Dwaine Michael Smith | | 136 | 50% | Not elected |
Keighley (Knowle Park) - results

| Election Candidate | Party | Votes | % | Outcome |
| --- | --- | --- | --- | --- |
| Abdul Mohammed Shohid | | 444 | 62% | Elected |
| Jalal Uddin Sheikh | | 276 | 38% | Not elected |
Keighley (Lawkholme and Showfield) - results

| Election Candidate | Party | Votes | % | Outcome |
| --- | --- | --- | --- | --- |
| Mohammed Ibraheem | | 858 | 35% | Elected |
| Javaid Akhtar | | 850 | 35% | Elected |
| Ashok Ali | | 713 | 29% | Not elected |
Keighley (Laycock and Braithwaite) - results

| Election Candidate | Party | Votes | % | Outcome |
| --- | --- | --- | --- | --- |
| John Stevens Kirby | | 222 | 64% | Elected |
| Julie Ann Glentworth | | 127 | 36% | Not elected |
Keighley (Long Lee and Parkwood) - results

| Election Candidate | Party | Votes | % | Outcome |
| --- | --- | --- | --- | --- |
| John Thomas Lawless | | 390 | 33% | Elected |
| Wendy Harrison | Conservative | 303 | 25% | Elected |
| Claire Louise Denby | | 280 | 24% | Not elected |
| Ken Green | | 217 | 18% | Not elected |
Keighley (Morton & Sandbeds) - results

| Election Candidate | Party | Votes | % | Outcome |
| --- | --- | --- | --- | --- |
| Lewis Andrew Haynes | | 531 | 43% | Elected |
| Martin Jon Crangle | | 449 | 36% | Elected |
| Sarah Katherine Nash-Myers | | 269 | 22% | Not elected |
Keighley (Riddlesden and Stockbridge) - results

| Election Candidate | Party | Votes | % | Outcome |
| --- | --- | --- | --- | --- |
| Andrea Catherine Elizabeth Walker | | 958 | 26% | Elected |
| Peter James Kates | | 809 | 22% | Elected |
| Mohammed Muazzam | | 515 | 14% | Elected |
| Rashid Hussain | | 468 | 13% | Not elected |
| Kaif Khan | | 417 | 12% | Not elected |
| Edward Howard Harold Wellwood | | 245 | 7% | Not elected |
| Sharon Emma Bham | | 151 | 4% | Not elected |
| Damyan John Foster | | 60 | 2% | Not elected |
Keighley (Spring Gardens and Utley) - results

| Election Candidate | Party | Votes | % | Outcome |
| --- | --- | --- | --- | --- |
| Mohammed Kadir Rafiq | | 988 | 31% | Elected |
| Clare Alison Abberton | | 903 | 28% | Elected |
| Abdul Nasser Razak | | 712 | 22% | Elected |
| Mohammad Anayat | | 627 | 19% | Not elected |
Keighley (Woodhouse and Hainworth) - results

| Election Candidate | Party | Votes | % | Outcome |
| --- | --- | --- | --- | --- |
| Ellen Bailey | | 406 | 48% | Elected |
| Tamara Michelle Priestley | | 316 | 37% | Elected |
| Laura Ann Kelly | | 128 | 15% | Not elected |