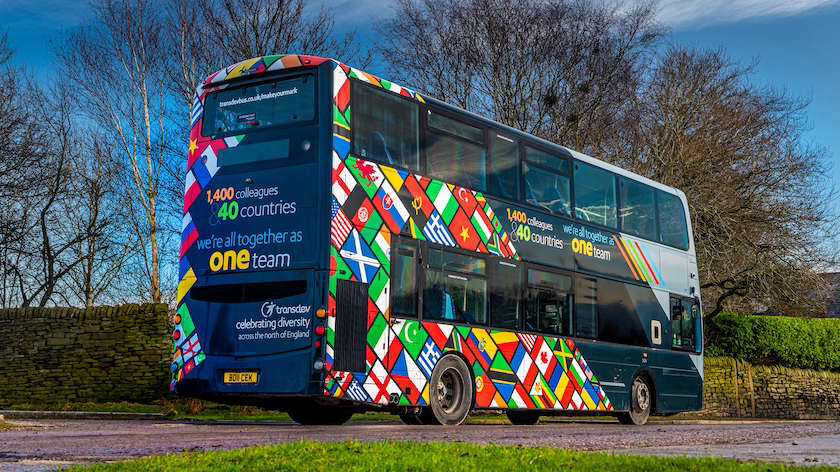 Transdev - which operates bus services across Keighley, Skipton and Ilkley - has painted one of its vehicles to celebrate the 40 different countries where its staff are from.
The double-decker is decorated with the national flags of Transdev's 1,400 team across Yorkshire and the North as part of awareness for its latest recruitment campaign to find new drivers, engineers and support staff. Countries represented are from all continents and include places as far away as Nigeria, China, Ecuador and Slovakia.
Transdev CEO Alex Hornby said: "We're proud to have 40 countries represented by our 1,400 colleagues across the North – especially at a time when the whole transport sector is responding to a national employee shortfall. We're welcoming and training record numbers of new drivers right now, and we're on the lookout for more.
"We offer an industry-leading benefits package to newcomers joining our team, including a £1,000 welcome bonus for qualified drivers, free travel on all our buses and most others across the North, generous health and welfare discounts and rewards for our best performers.
"We also encourage our people on the road to career success through our 'Step Up' talent development programme, and later this month we'll celebrate the talents of our team as we have just done with our annual Amazing Awards, in the company of world heavyweight boxing champion Frank Bruno MBE.
"Our people come from a wide variety of backgrounds, and they all have one thing in common – they all care passionately about giving amazing customer service."
Transdev says it is also preparing for a year of investment across its local bus companies, including a project to upgrade facilities for colleagues at the depot in Keighley. It is also working to secure government approval for the introduction of new electric buses.
Alex adds: "We're ready to make 2022 a year of successful growth, and we're looking for people to make their mark in an organisation which will help them grow with us. We celebrate talent and diversity, and we offer one of our industry's most rewarding packages – so there's no better time than now to come on board."
For more details of the career opportunities with Transdev see transdevbus.co.uk/makeyourmark
We like to use the F word, but it's not what you think

Join our fantastic family of fabulous & friendly people. There's even a £1000 welcome bonus to all qualified drivers! 💰

Ready to be fabulous with us? 👉 https://t.co/V3UnIeHynH pic.twitter.com/yFvY04sf1b

— The Keighley Bus Company (@keighleybus) January 26, 2022