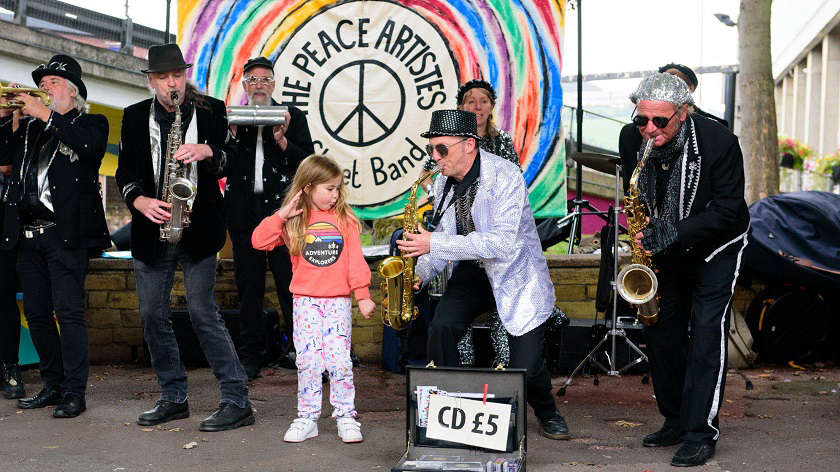 Buskers Retreat; The Peace Artists
Organisers of Keighley Arts and Film Festival deemed the weekend a success, with more than 3,000 people visiting at least one of its events.
The festival, which took place at venues across Keighley, went smoothly, they said, despite Covid-19 uncertainties delaying much of the organisation.
More than 120 performers and artists took part in the 33 events, staged over Friday, Saturday and Sunday. The festival was delivered by arts charity Keighley Creative and largely organised and staffed by volunteers, with 25 people helping at events, some of whom worked all three days of KAFF.
Jan Smithies of Keighley Creative said: "Some of the pre-booking events had extensive waiting lists for tickets, for instance more than 100 for the Royal Arcade actor-led tours. This showed there is interest in local history especially when delivered in an accessible way.
"We also had lots of people at the six pre-festival lantern-making workshops.
"Feedback on the events was very positive. There was a great partnership with the main venues such as Cliffe Castle museum and park, and the Airedale Shopping Centre.
"Despite a late start because of the risk of organising events due to Covid-19 uncertainty back in spring, leading to late confirmation of financing the festival, with funders uncertain to committing to such a big series of events, the three-day programme was delivered without a hitch."
Audiences and participants ranged from babies to at least one 94-year-old who made her own lantern.
Ms Smithies said: "There were good mixed audiences for many events but not all were reflective of Keighley's diversity. We're undertaking a full evaluation of the festival.
"Planning for 2022 has already started with feedback from people involved this year.
"We're hoping that money from the Towns Fund will be released early next year, allowing a starter budget for KAFF2022 to fund full-time staff, commissioning of events and publicity for an even better festival."
Ms Smithies said the festival attracted visitors from outside Keighley, including North Yorkshire, the wider Bradford district and West Yorkshire.
Keighley Creative is a volunteer-led arts charity based in the former Sunwin House and Home department store building on Hanover Street. It has big plans to establish a creative centre for the arts, and already houses printmakers, an upholsterer, a photographer, a writer and artist, and textiles designer as well as consultants in the visual arts at its Creative Space. The charity also stages regular exhibitions at its premises and holds creativity community sessions and workshops, as well as organising Keighley Arts and Film Festival.