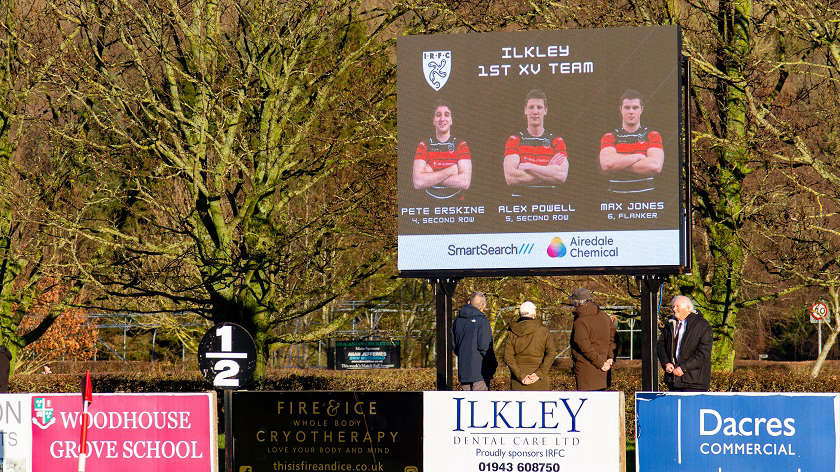 Ilkley Rugby Club is excited to announce the installation of a brand new state-of-the-art LED scoreboard at its home ground.
The new scoreboard, which was made possible through generous donations from local businesses and individuals, was unveiled at the recent home match against Scunthorpe RFC where Ilkley won 14-7.
The new LED scoreboard boasts a number of advanced features, including high-resolution graphics, an easy-to-read layout, and improved visibility, even in bright sunlight. The scoreboard will also allow for live updates of in-game statistics, and will provide a more engaging game-day experience for players, coaches, and fans alike.
"Having our annual sponsors lunch on Saturday 7th January" says Jason Shaw, Club Marketing, Advertising & Board Sponsorship Manager, "whereby we thank all our 100+ sponsors for continued support, it was phenomenal to be able to showcase our new digital LED screen, that not only acts as a scoreboard, but pitch side sponsor board, looping all the great businesses that help us survive and thrive.
"In addition the graphic display for player squad member biographies, clips of previous highlighted matches and pro-actively engaging all the spectator audience in upcoming fixtures and key dates at Stacks Field"
The scoreboard was unveiled to a large crowd of supporters, fans and sponsors on Saturday 7th and the next home match on 21st January will be against York RFC 1st XV where the scoreboard will have its second outing. For more information about Ilkley Rugby Club and its upcoming schedule, please visit the club's website at www.ilkleyrfc.co.uk