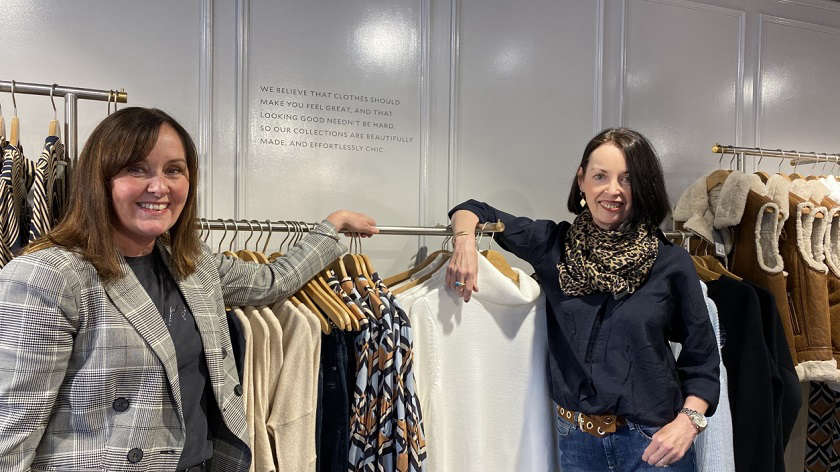 October sees two exciting charity events in the town supported by Ilkley fashion retailers
A Mint Velvet Swap Party on Wednesday 5th October and the annual Ilkley Macmillan Fashion Show 2022 at The Craiglands Hotel on Thursday 6th October.
Mint Velvet's Swap Party next Wednesday from 5.30pm – 7.30pm is designed to extend the lifecycle of the clothes already in our wardrobes encouraging sustainable fashion and is in aid of the Wardrobe Foundation, a social enterprise that provides quality clothing to women in need of clothing support.
Between Friday 30th September and Monday 3rd October, the team at Mint Velvet on The Grove invite you to bring into store 3-5 items of pre-loved clothing items or accessories in great condition. The clothes will be steamed and hung on hangers and on the evening of the event on 5th October all the donated items will be on display. Ladies who have brought in items to be swapped can browse the collection and take home with them up to the same number of clothing items they donated.
Tickets are £5 each which includes a glass of prosecco on arrival. All proceeds will go to the Wardrobe Foundation, along with any unwanted clothing items from the event.
Claire Robinson, Manager of Mint Velvet in Ilkley said: "We're really excited about this event as not only is it going to be a great party but it also supports the Wardrobe Foundation which is an amazing charity helping vulnerable women feel more confident and empowered. As a company, we donate a pair of Mint Velvet leggings through the charity to all ladies needing our support and we're delighted that the proceeds of the Swap Party will help them even further.
"And importantly, it encourages the recycling of clothing items with ladies able to upgrade their wardrobe in an environmentally friendly way."
Tickets can be bought in-store or by calling 01943 603875.
The Ilkley Macmillan Fashion Show the following evening is the highlight of Macmillan's fundraising events in Ilkley as it helps raise much needed funds for the charity to help all those affected by cancer in the Yorkshire region.
Led by a passionate new committee and with the help of local businesses, the lavish event will showcase the latest Autumn/Winter collections from the town's menswear and womenswear retailers, including independent businesses Attic Womenswear, Fig & Willow, Ilkley Shoe Company, Joshua Adams Menswear, The Fitting Room, Time & Time Again, and Ilkley's Phase Eight.
The evening will include time for shopping with local stall holders selling gifts and treats, followed by a light supper, seated in the beautiful ballroom.
There will also be a raffle, with prizes donated by generous local individuals and businesses, including the top prize of a Maserati Levante for the weekend, kindly donated by JCT 600.
Tickets are £39.50 and are available from The Fitting Room at 23 The Grove Promenade or by calling organiser Jo on 07846 468277. For more information, visit the show's Facebook page: facebook.com/Ilkleymacmillanfashionshow2022