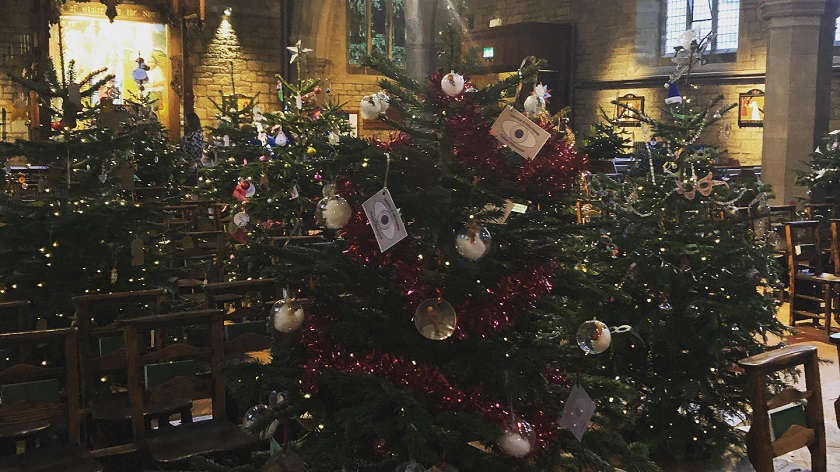 Ilkley's stunning Christmas Tree Festival at St Margaret's Church will welcome 30 local charities and community groups each with their own beautifully decorated tree on Friday 2nd and Saturday 3rd December.
Christmas Trees will be festooned with lights and uniquely styled to capture the essence of each organisation's unique personality. Visitors will have the opportunity to vote for their favourite trees. Can Nell Bank, winner two year's running, be beaten this year?
Decorate the Mitten Tree – we are inviting visitors to bring a pair of new gloves or a woolly hat to decorate the Mitten Tree which will then be donated to charities providing support to people in need during the cold season. We would love you to help us cover this tree in colourful woollens!
An angel making workshop run by our Ukrainian guests will take place in church at 11.30 am on Saturday 3 December. Come along to make a beautiful angel to decorate your own tree at home or to give as a Christmas present to family or friends.
As well as browsing among the spectacular trees there will be a programme of live music across the two days including an Organ Recital by our own Christopher Rathbone on Friday 2nd at 12.30 pm and primary school children from local schools singing their hearts out in the afternoon. An uplifting set by the Rock Choir Yorkshire will fill the church on Saturday 3rd at 1.00 pm.
The full programme of music is:
Friday 2 December
10 am – noon Quiet time
12.30 pm Organ Recital by Christopher Rathbone
2.00 pm Songs by Moorfield School
3.00 pm Songs by Ghyll Royd School
4.30 pm Songs by Addingham Primary School
5.30 pm Steph and Her Sax
7.00 pm Close
Saturday 3 December
10.00 am Outside the Box
11.00 am Ukrainian Children's Choir
11.30 am Ukrainian Angel Making Workshop
1.00 pm West Yorkshire Rock Choir
2.00 pm Ilkley Singers
3.00 pm St. Margaret's Choir
5.00 pm Ilkley Choral Society
6.00 pm Close
There will be plenty of delicious cakes and mince pies, coffee, tea and juices on sale to tempt you to sit a while, chat with friends and enjoy the music and entertainment in this beautiful space.
Fr Alex Crawford, Vicar of St Margaret's said, "We are so pleased to be able to put on the Christmas Tree Festival this year, and we hope it will bring a bit of joy into what's looking to be a difficult winter for everyone. Our trees will showcase the work of local charities, community groups, and businesses, and it'll be a real celebration of all that makes Ilkley such a lovely place to live. Proceeds from the festival will help to support homeless people and those in need in Bradford, and help keep our church open and serving our community this Christmas.
"We finish the weekend with St Margaret's Christingle service at 3.00 pm on Sunday, December 4th – bringing our community together for a family friendly, joyful celebration of light and hope.
"There is so much to enjoy over the Christmas Tree Festival weekend – we hope you will join us."