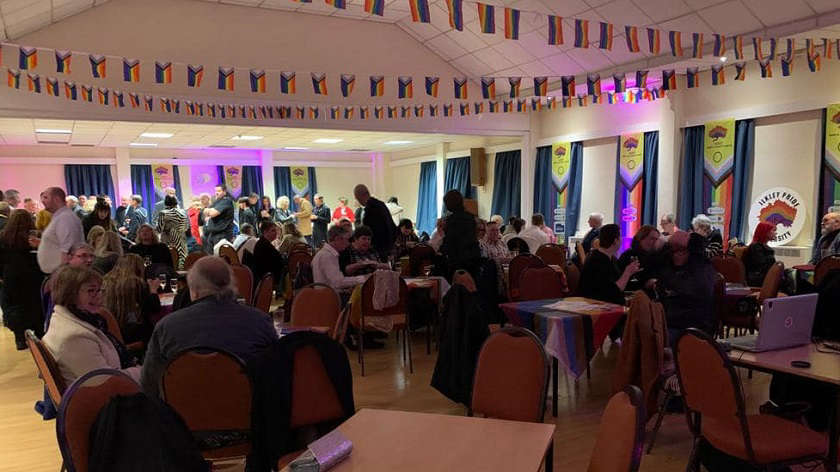 Pride launch at the Clarke Foley Centre
The countdown to the second Ilkley Pride and next Keighley Pride started last Friday (27 January) with a launch at the Clarke Foley Centre in Ilkley.
David Shaw MBE, Chair for both Ilkley and Keighley Pride said: "A massive thank you to the amazing people who attended the Ilkley & Keighley Pride launch last Friday. What a night! What a launch it was totally amazing".
"Marigold Adams, a local drag artist of 20 years from Keighley and more recently Cher on ITVs Starstruck entertained and will be one of the headline acts at Ilkley Pride, along with Bosom Buddies."
Ilkley Pride will build on June's Pride Month of Celebrations with two events at Ilkley's Kings Hall & Winter Garden on Saturday 1st July, a family event in the afternoon with over 16s in the evening.
Keighley Pride will take place on 12th August at Keighley Cougars ground in the afternoon and evening.
David added: "a big thanks to Tenant and Darragh Jewellers , The Crescent Bistro Pierre, Jo Kirk Therapies, Ilkley Bid, Tyler James Pet store, Ideal Extraction, Walker Fosters Solicitors, Logo That, Yorkshire Hot Tubs, Tivoli Place Air B & B, The Loafer, Waltons, The Gin Lounge, The Station Pub, Ilkley Kitchen, Soul and Co photography, Ilkley Playhouse, Wetherspoons, Booths and Tesco all committing to sponsoring Ilkley Pride on the night.
"Thanks to Cllr Martin Love, Lord Mayor of Bradford, Ilkley Mayor Cllr Mark Stidworthy and our MP Robbie Moore for paying tribute to Ilkley and Keighley Prides hard work of education and celebration of all that is good about diversity and inclusion in our towns."
For further information and opportunities to sponsor Ilkley Pride please visit www.ilkleypride.co.uk or email Ilkley.pride@gmail.com and follow socials @ilkleypride.
For Keighley please visit keighleypride.org or email keighleypride@gmail.com