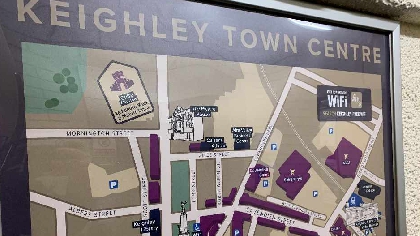 Bradford Council's Executive is to receive a progress report on two multimillion pound Town Deal projects designed to drive transformational economic growth in Keighley and other towns across the Bradford district.
In June, Keighley received an investment offer from the government of £33.6m and Shipley was offered £25m - the two highest offers in West Yorkshire. Keighley was the fifth highest Town Deal offer in the UK.
Recently, the authority successfully secured Grant Offer Letters for the schemes and will receive £2.9m of the investment allowing the council and its partners to move the projects forward to the next stage by developing detailed business cases.
The government requires detailed business cases before they will release further funds.
The business cases will set out the scope of the projects and what benefits they will bring.
They will detail how they will be delivered, how much they will cost and how value for money will be ensured.
In February, Town Deal Boards made up local representatives and led by a private sector chair developed investment plans which identified viable and sustainable projects which could build on each town's assets and strengths.
Keighley's plans included:
Development Investment Fund to restore and repurpose buildings and redevelop sites for commercial and residential use.
Public realm and transport infrastructure improvements to ensure the town centre is well connected and accessible to the surrounding areas; this will include improving walking/cycling links and public spaces such as streets, squares and parks.
Keighley Skills Hub - a space and facilities to support and develop skills for local employment and entrepreneurship delivering education and skills courses to adult learners of all ages to support transition to employment.
Manufacturing Engineering Future Technology Hub - training hub specialising in manufacturing and engineering skills; focusing on areas of advanced engineering, manufacturing, maintenance and technical support skills around these including IT networks, cyber security and online marketing.
Capital assistance to business growth - supporting small businesses to grow and adapt and diversify in a changing climate.
Community Grant Scheme – financial support to a range of organisations and businesses that are rooted in the local communities including grass roots and community organisations to improve premises or support to expand or diversify / strengthen the offer to the local community.
Keighley Creative Community Hub – a community arts hub creating a cultural destination in Keighley town centre and providing a year-round programme of skills training and leisure learning.
Keighley Art and Film Festival - supporting the development of the Keighley Art and Film Festival and helping to employ a small core team year-round to generate the resources to ensure a high-impact series of events.
Women Employment Project - establishing a textile academy which will deliver a bespoke skills training package for local Black, Asian and Minority Ethnic (BAME) women to improve pathways into skilled work.
Health and Wellbeing Centre - an integrated health and wellbeing centre in the heart of Keighley bringing together GP services including self-care and prevention, as well as community care, mental health, dental care services and a GP training hub.
Bradford Council's Executive will meet in Bradford City Hall on 7 December 2021 at 10:30am.
Councillor Alex Ross-Shaw, Portfolio Holder for Regeneration, Planning and Transport, said: "Our local Town Fund projects are progressing well.
"I'd like to thank the chairs and members of both boards for their hard work, commitment and passion for these projects. We have worked tirelessly with them to secure some of the most substantial grants for Keighley and Shipley.
"This next phase, required by the government, will flesh out the details to ensure they reflect local priorities. As part of this, we will ensure communities' and businesses' voices are involved in shaping the detail."