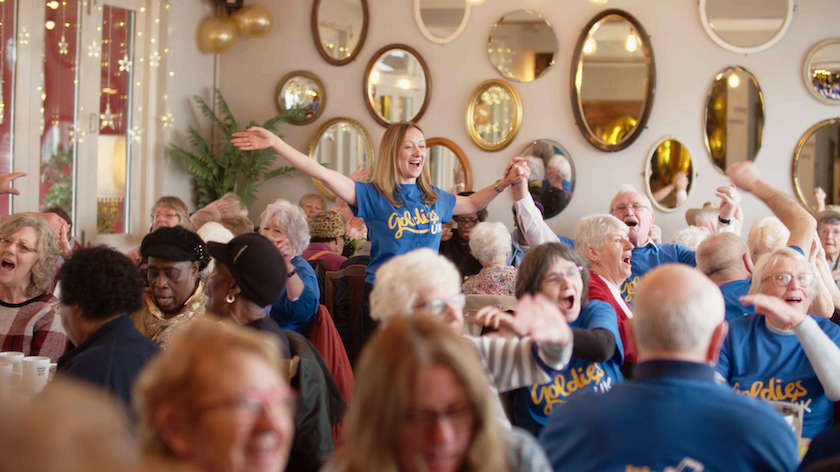 The Golden-Oldies Charity's sing and smile groups are to start up again in Cross Hills and Eldwick, after a break of sixteen months.
The groups are more than just choir rehearsals, offering a social opportunity to older or isolated people too.
The Cross Hills group will meet on the first Tuesday of each month, starting from 7th September, in St Peter's Methodist Church on Main Street. The sessions are led by Monica Dobson and run 2-3pm.
In Eldwick near Bingley, Carole O'Neill runs the sessions on the second Tuesday of the month (starting 14th September) at The Eldwick Church on Otley Road, 2-4pm.
'Goldies' founder Grenville Jones, who set up the charity in 2007, said: "I wanted to grab the atmosphere of fun and friendship and bring it to older isolated people through daytime 'singalongs' of the memory-evoking hits of the 60s and onwards."
"Goldies gives older isolated people something to look forward to, a chance to get out, make new friends and singalong to those popular hits of the past."
Before lockdown in March 2020, there were more than 200 daytime fun singalong Goldies sessions taking place across the country. Those attending were older people, many living in community housing, adults with learning difficulties and people living with dementia.
Academic studies have endorsed the benefits that the Golden-Oldies Charity brings to isolated people. It has also worked with Primary Schools in recent years with support from the Lottery Heritage Fund and in 2018 received the accolade of winning the Education Category of the National Lottery Awards – a project based on the music of the First World War.
When forced by Covid to close all sessions, Goldies looked to the internet, Facebook and YouTube to bring its fun sessions to people in their homes. Popular Wales-based leaders Rachel Parry and Cheryl Davies lead the twice-weekly sessions under the goldieslive.com banner, with people joining from their homes across the United Kingdom. These will continue through to next Spring.
Find out more at golden-oldies.org.uk