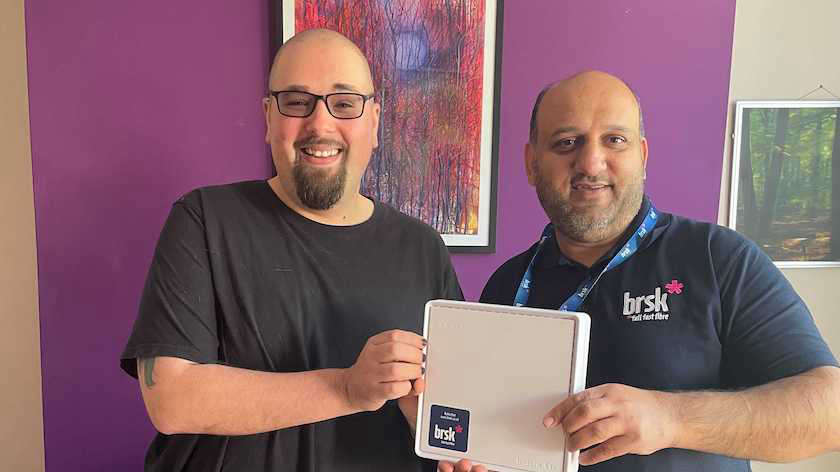 A new broadband provider launching in Keighley has connected its first customer to a gigabit-capable broadband service.
Howard Flett is customer number one in the town for brsk - pronounced 'brisk' - which is utilising FTTP (fibre to the premises) technology to increase internet speeds to up to 1 gigabit (1000mb per second), which is around 20 times faster than broadband via phone lines - and several times faster than some cable providers.
brsk says it will be rolling out its service to make it available to 25,000 homes and businesses across Keighley in the coming months - including the Utley, Braithwaite, Oakworth, Long Lee, Ingrow, Exley Head and Thwaites areas.
The company says any schools and community centres in its coverage area can be connected for free, while residential customers can get a no-obligation free trial of the service for six months. The firm also says it won't tie people into long contracts as some other providers do.
Keighley resident Howard Flett says: "I've been really excited while waiting for brsk to come along. I've been using Virgin Media because there's basically been no alternative until now, but their 18-month contracts are restrictive and ridiculously expensive; brsk just looks like a much better deal. I've been eagerly watching them building up the street and I appear to be the first one in Keighley. It's pretty cool...here's to giving it a go!".
brsk Community Manager, Mohammed Amran said: "We are incredibly proud of our people and teams that are improving people's lives by installing our brand new full fibre network. We understand the transformative impact that our reliable and high speed broadband has on every home we service, so we are delighted to have connected Mr Howard Flett, our first customer in Keighley, to full-fibre broadband."
Full-fibre uses fibre-optic cables to deliver broadband services to premises (Fibre to the Premises, FTTP), providing faster speeds and more reliable service than copper-based networks (Fibre to the Cabinet, FTTC).
Find out more about the areas covered at brsk.co.uk/locations/keighley