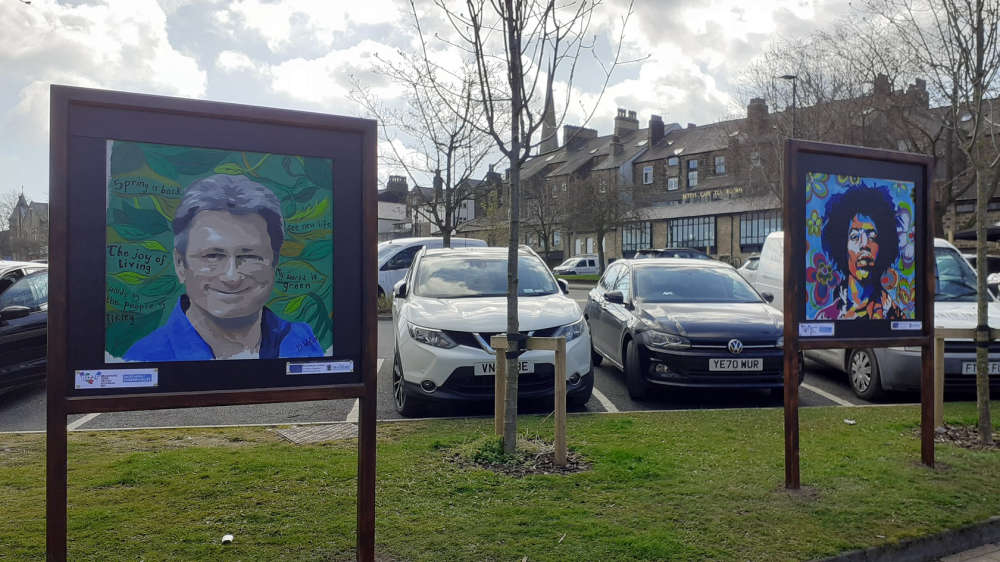 Artwork on Cunliffe Road by South Hawksworth Street car park in Ilkley
Artwork is popping up in Ilkley and Keighley town centres as part of Bradford Council's Spring Back 2022 campaign.
Designed to encourage people to rediscover their local town or neighbourhood high street, the campaign has already seen a number of events across the district including the Family Takeover in Ilkley and K-Town Shopper weekend in Keighley at the end of March.
Bradford Council has commissioned local artists to create an exciting and eclectic array of unique artwork, which in Ilkley will also see windows painted in Ilkley town centre.
People Powered Paste-Ups are creating a paste-up gallery of public poetry and prose including three giant murals all created and hand-printed on the People Powered Press, the world's largest printing press of its kind, which is based in Saltaire. The artwork will be located on Lord Street in Keighley town centre and will be created by and for the people of Keighley.
A Bradford Council spokesperson said: "The artworks will be a wonderful addition to our town centres, and we hope that they will brighten the day of residents and visitors when they see them.
"The displays will bring to life our high streets and town centres, and will help give a boost to our local high street businesses.
"We have some brilliant artists in our district and it's a great opportunity to support them and showcase their work in way that everyone can enjoy."
Bradford Council's Spring Back 2022 artwork has been created in partnership with local artists, creatives and businesses and has been made possible thanks to the Welcome Back Fund, which is funding from the England European Regional Development Fund.
Information about Bradford Council's Spring Back campaign can be found at www.visitbradford.com/springback2022.aspx
The Bradford district is currently one of four shortlisted places in the running to be the next UK City of Culture 2025. To find out more about the Bradford 2025 bid visit www.bradford2025.co.uk or follow @Bradford2025 and #Bradford2025 on social media.